Pressure cooker pasta Fagiole recipe. Italian ziti pasta with ground beef, spices, and vegetables cooked in a pressure cooker. You may like to cook this delicious Italian recipe in a slow cooker, please learn here how.
Are you looking for more pressure cooker recipes? We have a huge collection of them, please check it out-Pressure Cooker Recipes
Pressure Cooker Pasta Fagiole Recipe
For a hearty meal, poach large eggs, then set them in the bowl before ladling pasta soup on top.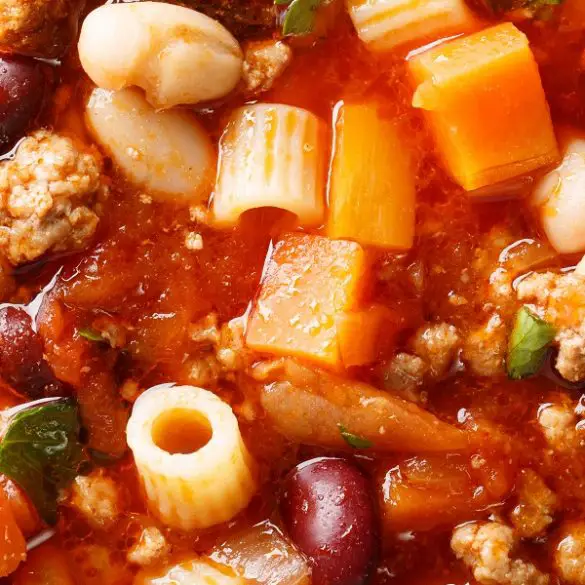 Ingredients
1 pound (480 g) ground beef

1 tablespoon (15 ml) olive oil

28 oz (840 ml) can whole tomatoes, chunked

15 oz (450 ml) can red beans, drained and rinsed

15 oz (450 ml) can white beans, drained and rinsed

1 medium green bell pepper, stemmed, cored, and chopped

1 small yellow onion, peeled and chopped

1 cup (250 ml) dried whole wheat ziti

1 teaspoon (5 ml) dried oregano

1/4 teaspoon (1 ml) red pepper flakes

1/4 teaspoon (1 ml) salt
Instructions
Heat the olive oil in an electric pressure cooker turned to the browning function.
Add ground beef and cook, stirring, until browned. Add the remaining ingredients. Mix well.
Close the pot and lock the lid.
Set the machine to cook at high pressure. Set the timer to cook for 8 minutes.
Using the Quick Release method, bring pressure to normal. Carefully unlock and open the lid.
Stir soup well before serving. Ladle into soup bowls. Serve hot.