Slow cooker coconut-lime bread recipe. Very easy and tasty dessert baked in a slow cooker. Do you like desserts? So, you may also like Oven-Baked Pumpkin Custard
Are you looking for more easy and delicious slow cooker recipes? We have a big collection of them, please check it out-Slow Cooker Recipes
Use this yummy bread together with homemade Mango Butter (see recipe below)
Mango Butter
Ingredients: 1/2 cup (125 ml) softened unsalted butter, 2 tablespoons (30 ml) chopped fresh mango, 1 tablespoon (15 ml) powdered sugar
Method: In a food processor, combine all ingredients. Process until smooth. Remove the butter from the food processor and transfer to a plastic container. Cover tightly and refrigerate for up to 3 days.
Slow Cooker Coconut-Lime Bread Recipe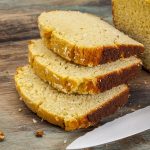 Ingredients
3 cups (750 ml) all-purpose flour

2 teaspoons (10 ml) baking powder

1/2 teaspoon (3 ml) salt

3/4 cup (180 ml) flaked coconut

1 cup (250 ml) cream of coconut

1/2 cup (125 ml) granulated sugar

1/2 cup (125 ml) unsweetened coconut milk

1/2 cup (125 ml) vegetable oil

3 egg whites

1 tablespoon (15 ml) finely shredded lime peel

1/4 cup (60 ml) freshly squeezed lime juice
Instructions
Line a 4-quart (4 L) slow cooker with a slow cooker liner. Grease the liner with non-stick cooking spray.
In a large mixing bowl, combine all-purpose flour, baking powder, and salt. Stir well. Stir in flaked coconut.
In a medium mixing bowl, combine cream of coconut, sugar, coconut milk, vegetable oil, egg whites, lime peel, and lime juice. Whisk well, then add the coconut mixture to flour mixture. Stir just until moistened.
Spoon the batter into prepare slow cooker. Cover the pot and cook on high-heat setting for 2-2½ hours or until a toothpick inserted in the centre comes out clean.
Turn off the cooker and carefully open the lid. Cover opening of slow cooker completely with paper towels, then return the lid on top. Set aside and cool for 15 minutes.
Using a liner, lift cooked bread out of the pot and transfer to a wire rack. Remove and discard liner. Cool bread completely.