Slow cooker raspberry fudgy brownies recipe. Very simple and tasty dessert coked in a slow cooker (crock pot). Do you like to cook desserts in a slow cooker? So, you may also like to cook Spinach and kale Quiché, another yummy dessert cooked in a crock pot.
Are you looking for more slow cooker recipes? We have a big collection of desserts, main dishes, side dishes, appetizers, drinks cooked in the pot, please check it out-Slow Cooker Recipes
Slow Cooker Raspberry Fudgy Brownies Recipe
Preparation Time-15 minutes, Slow Cook-3 hours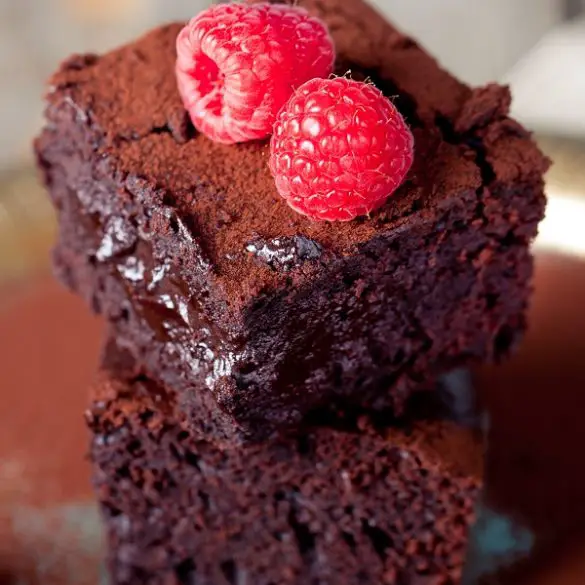 Ingredients
1/2 cup (125 ml) unsalted butter

2 oz (60 ml) unsweetened chocolate, coarsely chopped

2 large eggs, lightly beaten

3/4 cup (180 ml) granulated sugar

1/3 cup (80 ml) seedless raspberry jam

1 teaspoon vanilla

3/4 cup (180 ml) all-purpose flour

1/4 teaspoon baking powder

1/4 teaspoon salt

1 cup (250 ml) water

fresh raspberries
Instructions
Grease two 1-pint (1 L) straight-sided canning jars with nonstick cooking spray. Dust with the flour and set aside.
In a medium saucepan, combine butter and chocolate. Cook, stirring, over low-heat, until melted. Add beaten eggs, sugar, raspberry jam, and vanilla. Using a wooden spoon, beat until combined.
Stir in all-purpose flour, baking powder, and salt. Pour 1 cup (250 ml) of the batter into each prepared jar. Cover jars with grease aluminum foil, greased side down, then pour in water around.
Cover the pot and cook on high-heat setting for 3 hours or until tops spring back when touched.
Turn off the slow cooker and remove jars. Set and aside and cool for 1o minutes.
Loosen brownie rolls with a metal spatula and transfer to a wire rack. Cool slightly.
Cut it roll into slices. Top with fresh raspberries.