Instant pot buttermilk mashed potatoes recipe. Learn how to cook to make mashed potatoes in an electric instant pot.
You may also like Slow Cooker Baked Potatoes or Instant Pot Japanese Sushi Rice
Instant Pot Buttermilk Mashed Potatoes Recipe
Instant Pot Mashed Potatoes Variations: add 2-3 cloves garlic with the potatoes in a step 1, then reduce the butter to 2 tablespoons (30 ml). Add 2 tablespoons (30 ml) cream cheese in step 4.
Substitute 3/4 cup (180 ml) crème fraîche for the buttermilk. Heat it in a small saucepan over medium-high heat until hot, then add in step 4, along the butter.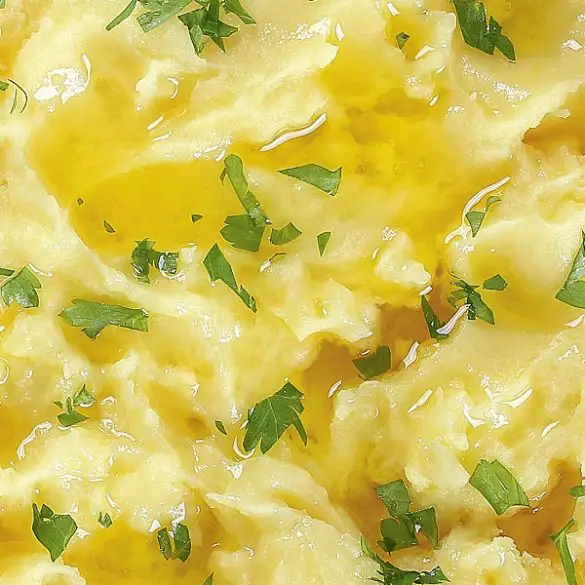 Ingredients
2¼ pounds (1080 g) Russet potatoes, peeled and chunked

1 teaspoon salt

3 tablespoons (45 ml) unsalted butter, cut into pieces

3/4 cup (180 ml) buttermilk, shaken and whisked

freshly ground black pepper, to taste

chopped fresh parsley, to garnish.
Instructions
Place chunked potatoes in 6-quart (6 L) electric instant pot and fill with water to cover. Season with salt.
Close the pot and lock the lid. Set the machine to cook at high pressure. Set the timer to cook for 8 minutes.
Using the Quick release method, bring pressure to normal. Carefully unlock and open the lid.
Mash the potatoes, using a potato masher. Stir in the butter and buttermilk. Beat to the desired consistency.
Season with more salt and black pepper.
Sprinkle with chopped fresh parsley.