Instant pot vegetarian red beans and rice recipe. Learn how to cook easy and healthy vegetarian red beans and rice in an electric instant pot.
You may also like Instant Pot Green Bean Casserole or Instant Pot healthy Vegan Quinoa
Instant Pot Vegetarian Red Beans and Rice Recipe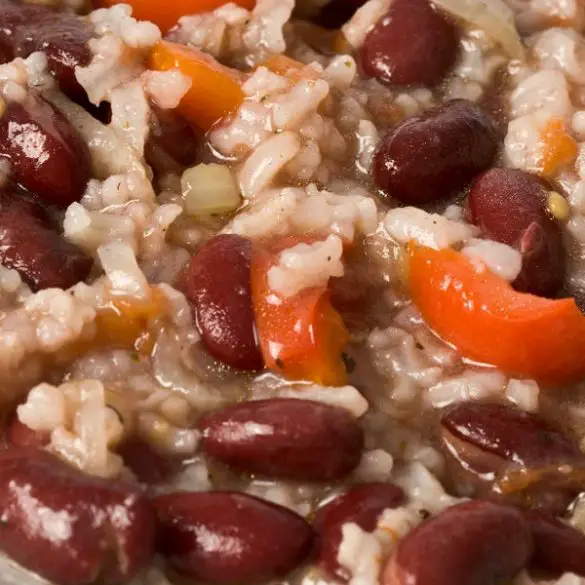 Ingredients
1/4 cup (60 ml) extra virgin olive

1 large yellow onion, peeled and chopped

4cloves garlic, peeled and minced

1 medium orange bell pepper, seeded and chopped

2 cups dried red kidney beans, soaked and drained

4 cups (1 L) vegetable broth

2 bay leaves

1 teaspoon dried thyme

1 teaspoon dried oregano

pinch of Creole seasoning

1 stick cinnamon

1/4 teaspoon red pepper flakes

1 tablespoon vegetarian Worcestershire sauce

sea salt and freshly ground black pepper, to taste

4 cups cooked white rice
Instructions
Heat the olive in an electric instant pot turned to the sauté mode.
Add chopped onions and cook, stirring occasionally, until just begin to soften, for about 2 minutes.
Stir in garlic and cook for a further 30 seconds.
Add orange bell pepper and continue cooking for 2 minutes more, coating them with oil.
Stir in soaked and drained red beans, then pout in the vegetable broth and, if necessary, enough water so the liquid is 1 inch (2.5 cm) above the beans. Add remaining ingredients and mix well to combine.
Cover the pot and lock the lid. Set the machine to cook at high pressure. Set the timer to cook for 10 minutes.
Using the Natural Release method, bring pressure to normal. Carefully unlock and open the lid. Discard bay leaf and cinnamon stick. Season with salt and black pepper. Serve hot.