Instant pot green bean casserole recipe. Learn how to cook delicious green beans with mushrooms in an instant pot. Serve it with yummy and crispy homemade onion rings.
You may also like Instant Pot Easy Vegan Chili or Instant Pot Sugar-Free Apple Butter
Instant Pot Green Bean Casserole Recipe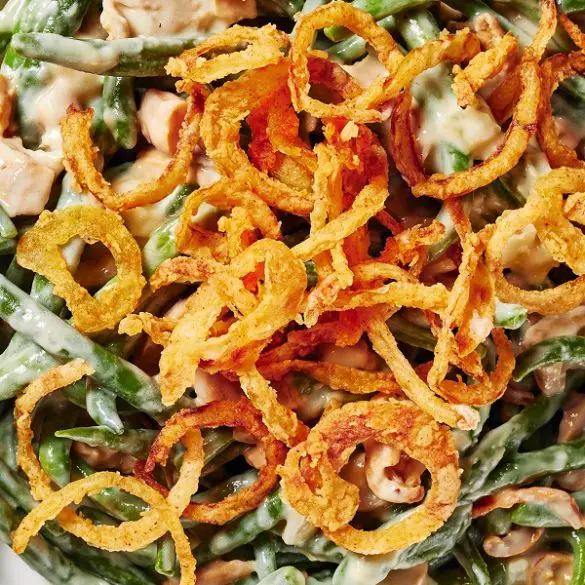 Ingredients
2 tablespoons unsalted butter

1 large yellow onion, peeled and thinly sliced

1½ teaspoons sea salt

1/2 pound (240 g) sliced mushrooms

1¼ pounds (600 g) green beans, tails cut off, rinsed and halved

2 cloves garlic, peeled and finely diced

1/2 cup (125 ml) vegetable stock

1 teaspoon Dijon mustard

4 tablespoons sour cream

To Make Crispy Fried Onions:

3 tablespoons coconut oil

1 medium yellow onion, peeled and sliced into rings

2 tablespoons tapioca flour

1 teaspoon onion powder

1/2 teaspoon salt

1/2 teaspoon smoked paprika

pinch of freshly ground black pepper
Instructions
Melt the butter in an electric instant pot turned to the sauté mode.
Add onions and cook, stirring occasionally, until golden brown, for about 5 minutes.
Add sliced mushrooms and continue cooking and stirring occasionally, for a further 5 minutes.
Stir in green beans, vegetable stock, and Dijon mustard.
Close the pot and lock the lid. Set the machine to cook at high pressure. Set the timer to cook for 1 minute.
Using the Quick Release method, bring pressure to normal. Carefully unlock and open the lid.
Add sour cream and mix well. Set cooked green beans with mushrooms and vegetables aside. Keep warm.
In a large bowl, combine onion rings, flour, onion p[powder, salt, paprika, and black pepper.
Using your hands, toss onion rings with spices, coating them evenly.
In a deep-frying pan, heat coconut oil over medium-high heat. Add seasoned rings and cook for 3-4 minutes each side, turning them with tongs.
Remove fried onion rings from the pan and transfer to a large plate. Sprinkle with more salt and paprika.
Transfer cooked green bean casserole to a serving plate. Top with fired onions. Enjoy!