Instant pot easy vegan chili recipe. Learn how to cook perfect vegan chili in an electric instant pot. Easy and healthy!
I used homemade soy sauce and vegetable broth to make this delicious recipe.
You may also like Pressure Cooker Mushroom Barley Soup or The Best Instant Pot Popcorn
Instant Pot Easy Vegan Chili Recipe
Are you vegetarian or vegan and would like to discover new healthy recipes? Try to prepare Instant Pot Vegan Rajma Chawal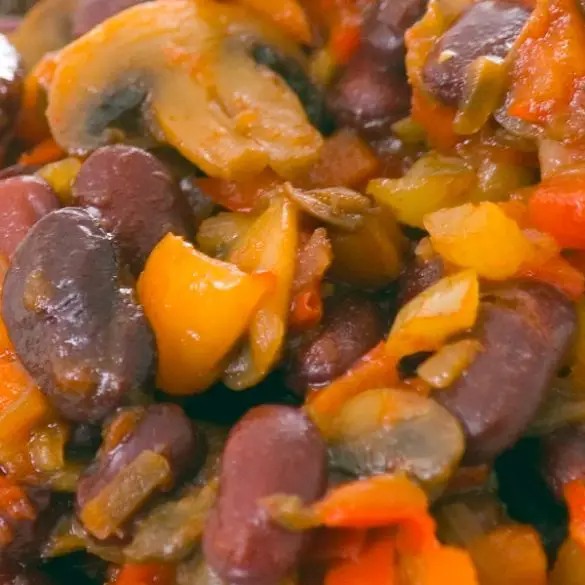 Ingredients
28 oz can (840 ml) whole tomatoes, undrained

3 tablespoons vegan butter

1 cup chopped yellow onion

3 cloves garlic, peeled and minced

1/2 tablespoon all-purpose flour

2 tablespoons chili powder

1 teaspoon paprika

1 teaspoon ground cumin

1 teaspoon dried oregano

1/2 teaspoon ground coriander

1/2 teaspoon garlic powder

1/2 teaspoon onion powder

1/4 teaspoon ground cayenne pepper

1/8 teaspoon ground cloves

2 cups (500 ml) vegetable broth

10 oz (300 ml) sliced mushrooms, drained and rinsed

1/2 cup chopped fresh celery

1/2 cup chopped carrots

2/3 cup chopped yellow bell pepper

1 tablespoon low-sodium soy sauce

1/2 tablespoon dark brown sugar

1 tablespoon chopped dark chocolate

19 oz (570 ml) can cooked red beans, drained and rinsed

salt and freshly ground black pepper, to taste
Instructions
First, drain half the liquid form canned tomatoes.
In a blender, pour half of whole tomatoes. Blend until smooth. Add the remaining tomatoes and blend until just chopped, not smooth.
Melt the vegan butter in an electric instant pot turned to the sauté mode.  Add chopped onions, garlic, all-purpose flour, and all spices. Cook, stirring occasionally, for 2 minutes.
Stir in the vegetable broth, sliced mushrooms, carrots, celery, yellow bell peppers, soy sauce, brown sugar, and dark chocolate. Mix well.
Cover the pot and lock the lid. Set the machine to cook at high pressure. Set the timer to cook for 6 minutes.
Using the Quick Release method, bring pressure to normal. Carefully unlock and open the lid.
Switch the instant pot to the sauté mode. Stir in red kidney beans.
Simmer, stirring constantly, until the desired consistency reached. Season to taste with salt and ground black pepper.
Serve hot.