Instant pot spicy potato soup recipe. Learn how to cook delicious spicy baked potato soup in an electric instant pot. Easy and tasty! Served it with croutons.
You may also like Slow Cooker Barley Vegetable Soup or Instant Pot Sugar-Free Apple Butter
Instant Pot Spicy Potato Soup Recipe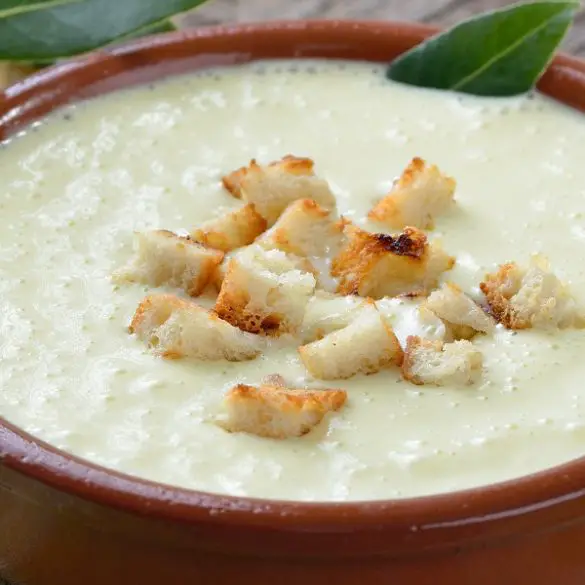 Ingredients
3 poblano pepper, broiled, peeled, stems removed and coarsely chopped

3 tablespoons unsalted butter

1 leek, white and green parts only, washed and sliced

5 garlic cloves, peeled and crushed

1 teaspoon sea salt

1/2 teaspoon dried dill

1/2 teaspoon smoked paprika

1/4 teaspoon ground cumin

1/4 teaspoon freshly ground black pepper

3 Russet potatoes, peeled and cubed

4 cups (1 L) low-sodium chicken broth

1 cup (250 ml) heavy cream

1/2 cup shredded sharp Cheddar cheese

1 cup croutons
Instructions
Melt the butter in an electric instant pot turned to the sauté mode.
Add sliced leek and cook, stirring occasionally, for 3 minutes.
Stir in garlic, salt, dill, paprika, ground cumin, and black pepper. Continue cooking and stirring, for a further 2 minutes.
Add potatoes, poblano pepper, then pour in the broth.
Close the pot and lock the lid. Set the machine to cook at high pressure. Set the timer to cook for 9 minutes.
Using the Quick Release method, bring pressure to normal. Carefully unlock and open the lid.
Working in batches, ladle the soup into a blender, filling only half of it. Blend until puréed and well combined.
Pour puréed soup back into the cooker. Switch to the sauté mode and bring to boil.
Stir in heavy cream and shredded cheese. Mix until fully combined.
Ladle the soup into soup bowls. Serve garnished with croutons. Enjoy!