Instant Pot keto butter chicken recipe. Boneless and skinless chicken breasts or thighs with spices cooked in an electric instant pot. Delicious and healthy low-carb (4.7 g) Indian chicken recipe.
You may also like Keto Mongolian Beef
Instant Pot Keto Butter Chicken Recipe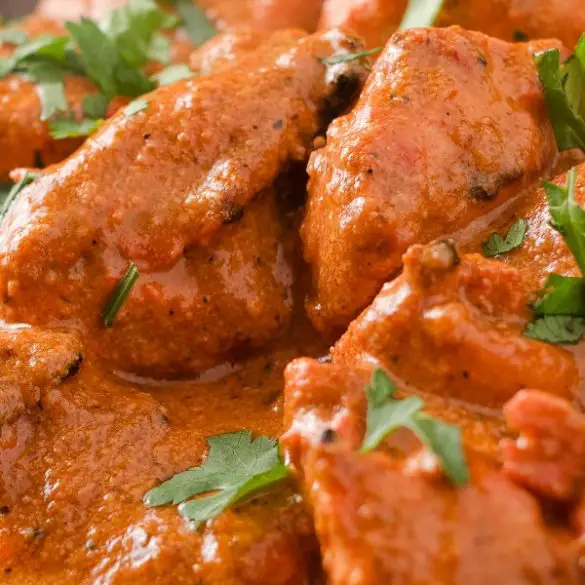 Ingredients
1½ pounds (720 g) boneless and skinless chicken breasts or thighs

14 oz (420 ml) can diced tomatoes, undrained

1 tablespoon grated ginger

5 garlic cloves, peeled and minced

1 teaspoon ground paprika

2 teaspoons garam masala

1 teaspoon ground turmeric

1 teaspoon cayenne pepper

1 teaspoon ground cumin

1 teaspoon salt

3 oz (190 g) unsalted butter, cubed

1/3 cup (80 ml) heavy cream

1/4 cup chopped fresh cilantro or parsley, for garnish
Instructions
In an 6-quart (6 L) electric instant pot, combine undrained tomatoes, garlic, ginger, paprika, garam masala, ground turmeric, cayenne pepper, and salt. Mix well.
Add the chicken.
Close the pot and lock the lid. Set the machine to cook at high pressure. Set the timer to cook for 9 minutes.
Using the Natural Release method, bring pressure to normal. Carefully unlock and open the lid.
Using tongs, remove cooked chicken from the cooker and transfer to a cutting board. Cut into small cubes and set aside.
Using an immersion blender, blend the sauce until smooth.
Switch the instant pot to the sauté function. Add cubed butter and heavy cream and mix well to combine.
Add cubed chicken back to the sauce. Cook, stirring, until sauce has reached desired consistency.
Sprinkle with chopped cilantro or parsley. Serve hot.