Instant pot keto chicken Stroganoff recipe. Chicken thighs with mustard, heavy cream, and mushrooms cooked in an instant pot and served over zucchini noodles.
You may also like Instant Pot Keto Stuffed Cabbage
Instant Pot Keto Chicken Stroganoff Recipe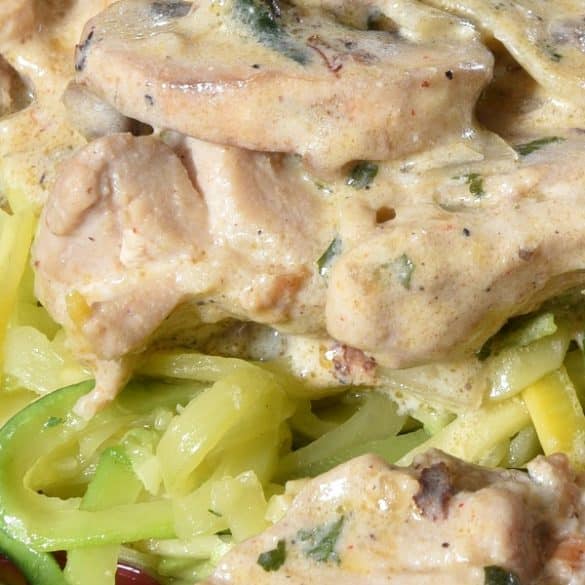 Ingredients
1/4 cup (60 ml) margarine

1/2 pound (240 g) mushrooms, sliced

2 cloves garlic, peeled and minced

1/2 teaspoon dried thyme

salt and freshly ground black pepper, to taste

1½ pounds (720 g) boneless and skinless chicken thighs, sliced

1/3 cup (80 ml) low-sodium fat-free chicken broth

1/2 cup (125 ml) heavy cream

1 tablespoon Dijon mustard

1/4 teaspoon xanthan gum
Instructions
Melt the margarine in 6-quart (6 L) instant pot turned to the sauté function.
Add sliced mushrooms and garlic and cook, stirring frequently, until mushrooms are browned.
Stir in dried thyme and season with salt and black pepper. Cook, stirring, for a further 30 seconds.
Add the  chicken, then pour over chicken broth.
Close the pot and lock the lid. Set the machine to cook at high pressure. Set the timer to cook for 5 minutes.
Using the Natural Release method, bring pressure to normal. Carefully unlock and open the lid.
Using a slotted spoon, transfer cooked chicken to a serving plate.
Stir the heavy cream and mustard into the pot. Switch the cooker to the sauté function.
Cook, stirring occasionally, for a few minutes, until sauce is thickened.
Remove half of sauce and stir in xanthan gum, then returned it to the pot and mix well to make it thicker.
Add the chicken back to the pressure cooker and toss well. Serve over zucchini noodles.