Instant pot keto Tuscan chicken recipe. Very easy and healthy creamy chicken thighs cooked in an electric instant pot. This Yummy recipe belongs to Italian cuisine.
You may also like Instant Pot Keto Taco Soup
Instant Pot Keto Tuscan Chicken Recipe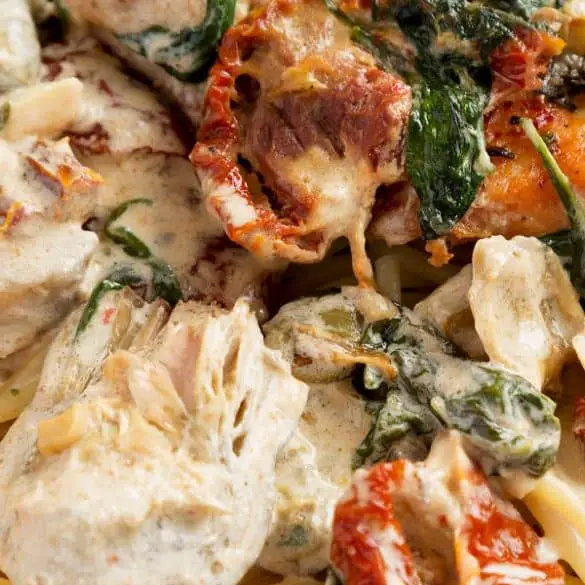 Ingredients
1 teaspoon olive oil

4 boneless and skinless chicken thighs

2 teaspoons Italian seasoning, divided

salt and freshly ground black pepper, to taste

1 cup (250 ml) low-sodium chicken broth

4 oz (120 g) cream cheese

1 tablespoon Better Than Bouillon Chicken Seasoning

3/4 cup (180 ml) unsweetened almond milk

2 tablespoons heavy cream

1/4 cup sun dried tomatoes

1/4 cup grated Parmesan cheese

3 garlic cloves, peeled and minced

2½ cups chopped fresh spinach

1 tablespoon xanthan gum (use cornstarch as a substitute)

1 tablespoon water
Instructions
Heat the olive oil in an electric instant pot turned to the sauté mode.
Season chicken thighs with 1 teaspoon Italian seasoning, salt and ground black pepper, to taste.
Add seasoned chicken to hot oil and brown for 2-3 minutes on each side.
Pour in the chicken broth, then stir in remaining seasoning and Better Than Bouillon Chicken Seasoning.
Close the pot and lock the lid. Set the machine to cook at high pressure.  Set the timer to cook for 12 minutes.
Using the Quick Release method, bring pressure to normal. Carefully unlock and open the lid. Using tongs, remove cooked chicken thighs from the cooker and transfer to a serving plate.
Add almond milk, sun dried tomatoes, cream cheese, heavy cream, grated Parmesan, minced garlic, and spinach to the pressure cooker.
Switch the instant pot to the sauté mode. Cook for a further 3-4 minutes, or until cheese has melted and spinach has wilted.
In a small mixing bowl, combine cornstarch and water. Mix until cornstarch has dissolved completely. Add the mixture to the pot. Continue cooking and stirring constantly, until the sauce reaches your desired thickness.
Return cooked chicken to the cooker. Stir well.
Serve over the cooked pasta.