Instant pot vegan mujadara lentils recipe. Brown lentils with rice, vegetables, and spices cooked in an electric instant pot. Easy and healthy Lebanese recipe.
You may also like Instant Pot Vegan Quinoa Tabbouleh, or Crock Pot Spanish Chicken Stew
Instant Pot Vegan Mujadara Lentils Recipe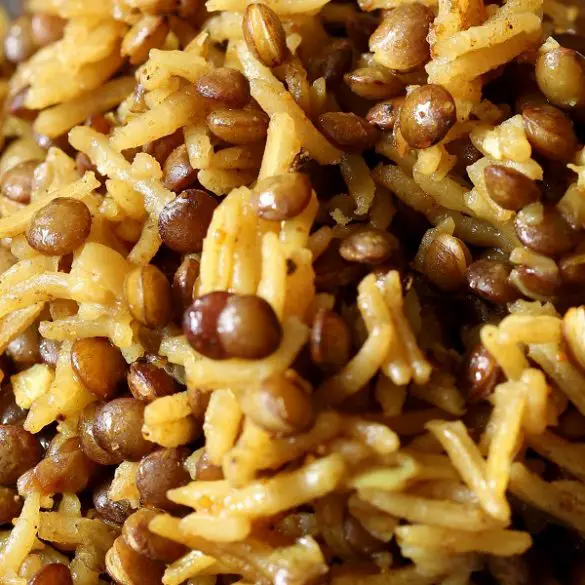 Ingredients
1 cup uncooked Basmati rice, washed and drained

1 cup uncooked brown lentils, soaked overnight

2 medium yellow onions, peeled and chopped

2 tablespoons olive oil

2½ cups (625 ml) vegetable broth

pinch of salt

1/2 tablespoon ground cumin

1/2 tablespoon ground coriander

1 teaspoon ground cinnamon

1/2 teaspoon chili powder

2 cloves garlic, peeled and minced

2 bay leaves
Instructions
Heat 1 tablespoon olive oil in the electric instant pot turned to the sauté mode.
Add chopped onions and cook until caramelized. Remove from the pot and set aside.
Add the remaining oil to the cooker. Stir in minced garlic and sauté,  until lightly browned.
Add soaked lentils, rice, bay leaves, ground cumin, cinnamon, coriander, vegetable broth, and chili powder. Mix well.
Close the pot and lock the lid. Set the machine to cook at high pressure. Set the timer to cook for 6 minutes.
Using the Natural Release method, bring pressure to normal. Carefully unlock and open the lid.
Stir in reserved caramelized onions. Serve hot.