Roasted chickpeas recipe (healthy meals). Chickpeas roasted in an oven, crispy and crunchy. This is one of my favorite snack recipes. Do you have a party and looking for more elegant appetizers, refreshing drinks, or easy snacks? We have a huge collection of them, please check it out-Party
You can roast chickpeas, also known as garbanzo beans in a slow cooker if desired.
Roasted Chickpeas in Slow Cooker
This is a super delicious and healthy snack cooked in a slow cooker.
Makes 4 servings
Ingredients: 15 oz (450 ml) garbanzo beans (chickpeas), drained, 1 tablespoon (15 ml) olive oil, 1/2 teaspoon (3 ml) kosher salt.
Instructions: Using a colander, rinse well chickpeas under cold running water. Remove rinsed garbanzo beans from the colander and transfer to a paper towel. Pat them well to remove excess moisture. Discard any shells that come off the chickpeas.
In a plastic zippered food storage bag, combine beans, olive oil, and salt. Seal the bag and, using hands, rub chickpeas to coat well with oil and salt. Open the bag and transfer salted and oiled beans to 5-6-quart (5-6 L) slow cooker.
Cover the pot and cook on high-heat setting for about 4 hours, opening the lid and stirring every 30 minutes.
Turn off the slow cooker and open the lid. Remove cooked beans from the pot and spread on a baking sheet. Allow cooling completely. Store in an airtight container.
Are you looking for more healthy roasted vegetarian recipes? Please check one of my favorites vegetarian meal-ROASTED GREEN BEANS WITH TOMATOES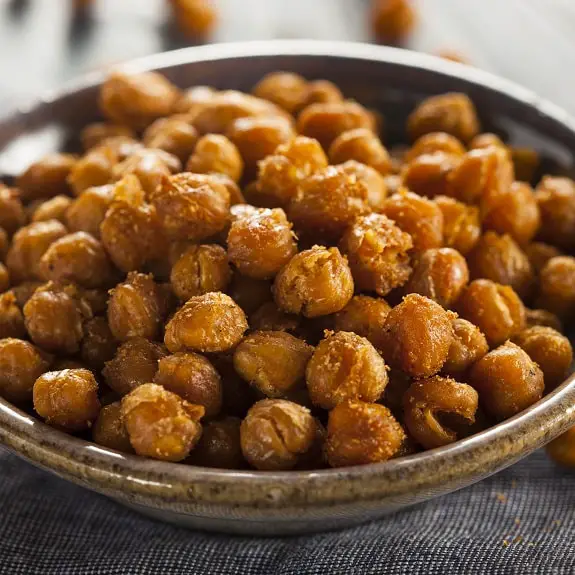 Ingredients
19 oz (570 ml) can chickpeas (garbanzo beans), drained and rinsed

1 tablespoon (15 ml) olive oil

3/4 teaspoon (4 ml) chili powder

1/2 teaspoon (3 ml) dried thyme leaves

1/2 teaspoon (3 ml) salt
Instructions
Preheat the oven to 375º F (180º C).
Spread drained and rinsed beans in a single layer on a baking sheet.
Bake in preheated oven for 30 minutes, shaking the pan every 10 minutes.
Remove baked chickpeas from the oven and transfer to a large bowl. Add remaining ingredients, then toss well to coat chickpeas with oil and spices.
Spread seasoned and oiled chickpeas back onto the baking sheet. Return to the oven. Bake for a further 10-15 minutes, or until they are golden and crispy.
Turn off the oven and remove baked beans. Transfer to a large bowl and allow cooling before serving. Enjoy!