The best air fryer avocado eggs recipe. Give Air Fryer Baked Avocado Eggs a try! They might just be the perfect way to prepare your eggs. All you need is an avocado, egg, and an air fryer, which gives us all a great source of protein for breakfast.
These baked stuffed avocados are a great breakfast idea. It's KETO and low-carb friendly, so it should be good for your body. I also think the balance of fats and carbs will help start your day off right!
If you've never tried Baked Avocado Eggs, this recipe is a good introduction. Avocado gets all creamy and the eggs are baked to perfection. Avocado is delicious with eggs!
Are Baked Avocado Eggs Keto-Friendly?
Absolutely!
The keto diet is a low-carb, high-fat diet that has been gaining in popularity over the past few years. One of the benefits of this type of diet is that it can be very easy on your wallet, especially if you are able to cook at home and avoid eating out. However, some people may find themselves still feeling hungry after following a ketogenic lifestyle for a while, which can make it difficult to stay on track with their weight loss goals.
One of the ways that people have found to combat this problem is by eating more eggs in order to get enough protein in their diets. Eggs are also one of the best sources of natural cholesterol, which is a type of fat that can help your heart's health. If you are at high risk for heart disease and you want to eat eggs in order to improve your cholesterol levels, it is important that you consult with your doctor first. Some other egg-rich foods that people have also found beneficial are fish oil, cottage cheese, and low-fat milk.
Useful Tips for Making Air Fryer Avocado Egg
If you find too many eggs in your air fryer, just make the eggs in a small bowl and pour them into the avocado's hole.
2. Check the status of your eggs periodically and keep an eye on the time. Remove them from the fryer when they're set. Each air fryer is slightly different, so you might need to adjust cooking time as needed.
3. Be sure to add some cheese right on top of the eggs, and it'll taste just like home.
The Best Air Fryer Avocado Eggs Recipe
You may also like:
Instant Pot Chicken and Dumplings Recipe
Instant Pot Poached Eggs Recipe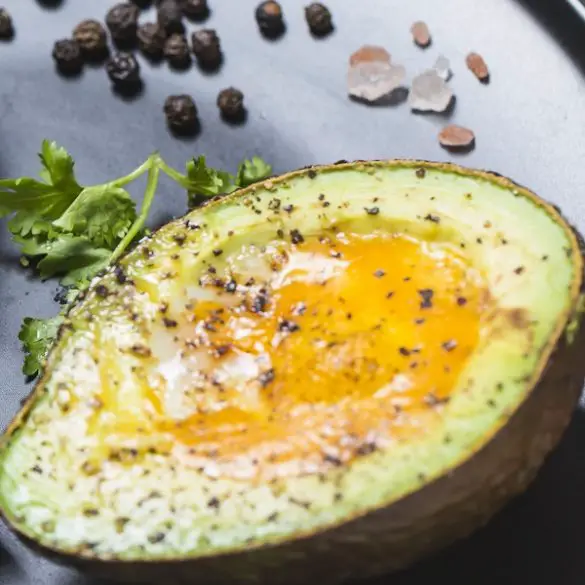 Ingredients
1 ripe avocado, halved and pitted

2 large eggs

salt and freshly ground black pepper, to taste
Instructions
Crack the eggs directly into the hole on the avocado.
Preheat your air fryer to 400º F (200º C) for 5 minutes.
Place avocado boats in the air fryer basket. Fry at 400º F (200º C) for 9 minutes.
Start checking your eggs at around 5 minutes. How quickly they cook depends on how powerful your individual air fryer is, so do keep an eye on them as they bake to avoid getting a hot mess.
Season with salt, black pepper, and fresh herbs.