Air fryer fried eggs recipe. Fried eggs – the perfect easy, healthy breakfast! These air fryer fried eggs are cooked to perfection with a crispy outside and soft yolk.
I am LOVING my new air fryer and have already been able to enjoy the crispy, warm edges of my eggs! This recipe for fried eggs is perfect for making with the air fryer! This is one of the easiest things you can make with your air fryer. It's very simple– all you have to do is follow these simple steps.
The first step to preparing an egg in your air fryer is choosing a pan that you can use. If you're using a basket air fryer, then the pan should be placed on the tray; however, if it's an air fryer oven, then simply place the egg onto the tray.
How To Fry Eggs in an Air Fryer:
How long you cook eggs can depend on what air fryer model you own, and how well-done you want them. For the best results though, it's recommended to set the temp to 370 degrees F for about 3-5 minutes. The eggs should be cooked by that time but not have a hard exterior.
Eggs can be fried with varying amounts of cooking time. Over-easy eggs are cooked to a point where the bottom portion becomes crispy and the top side of the egg becomes soft.
You can make sunny side eggs by turning them and cooking them for a couple more minutes. It should be pretty easy to make perfect eggs with an air fryer!
Over Medium Eggs: Many people are familiar with what this cooking technique entails, but if you've never done it before, it may be hard to determine the right consistency. In general, the yolk should be slightly runny. Do you know how to make the perfect over-medium eggs? Cook them until the yolk is still a bit gooey!
Hard-boiled eggs; this means that the yolk is tougher and needs to be cooked for longer, typically 10 to 15 minutes.
How to Eat Fried Eggs
Eating fried eggs in the morning is a great start to the day, but they can be cooked incorrectly. This guide provides tips on how to eat them in the morning and some of our favorite ways.
Fried Eggs on Toast: This fried egg breakfast with toast would be a healthy and hearty meal to start your day. The eggs are full of protein, as well as carbs from the bread, which will give you an energy boost for the entire day.
Fried Eggs with Potatoes: I love my Fresh Egg Breakfast Potato Recipe! It's a great and complete meal.
Fried Eggs with Avocado Toast: Place a fried egg over toast with avocado and cream cheese.
Air Fryer Fried Eggs Recipe
You may also like:
Instant Pot Chicken and Dumplings Recipe
Slow Cooker Poached Eggs Recipe
Instant Pot Kimchi Cabbage Recipe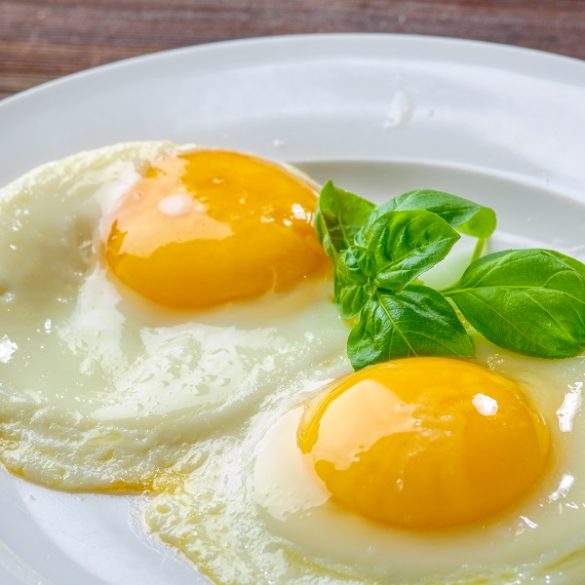 Ingredients
2 large eggs

1 teaspoon salt

1/2 teaspoon freshly ground black pepper

cooking spray
Instructions
Spray the air fryer basket with cooking spray.
Crack the eggs into the pan. Fry at 370º F (185º C) for 3 minutes.
See how your fried eggs are doing and if they need to cook for a little longer. If you prefer the yolk harder, then just add a minute.