Air fryer pasta chips recipe. Learn how to cook cheesy pasta chips in an air fryer. Yummy appetizer!
Cook it in a deep fryer- Crispy Pasta Chips
Air Fryer Pasta Chips Recipe
You may also like:
Air Fryer Easy Lemony Asparagus Recipe
Slow Cooker Baked Potatoes Recipe
Instant Pot Pineapple Jam Recipe
Air Fryer Teriyaki Cauliflower Recipe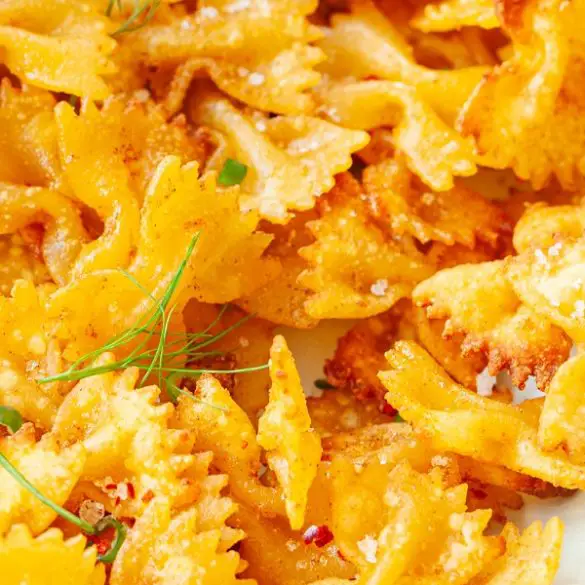 Ingredients
2 cups farfalle pasta

1 tablespoon (15 ml) olive oil

1/2 cup grated Parmesan cheese

1 teaspoon garlic powder

1 teaspoon Italian seasoning

1/2 teaspoon salt
Instructions
Pour the water in a large pot. Add a pinch of salt, stir, then bring water to a boil over medium-high heat.
Add the pasta and cook, stirring occasionally, for 8 minutes, or until tender. Drain pasta, using a colander. Transfer to a large bowl and drizzle with olive oil. Add grated cheese, garlic powder, Italian seasoning, and salt. Stir well.
Preheat your air fryer to 400ºF (200º C) for 5 minutes.
Working in batches, fry pasta at 400ºF (200ºC) for 5 minutes, then flip it and continue cooking for a further 2-3 minutes.
Remove fried pasta from the fryer and transfer to a serving plate. Repeat with remaining pasta.
Allow to cool for final crisping.