Air fryer chex mix recipe. Learn how to cook easy and yummy snacks in an air fryer.
Air Fryer Chex Mix Recipe
You may also like:
Air Fryer Easy Lemony Asparagus Recipe
Air Fryer Teriyaki Cauliflower Recipe
Air Fryer Sweet Potato Souffle Recipe
Air Fryer Purple Potato Chips Recipe
Air Fryer Spicy Peanuts Recipe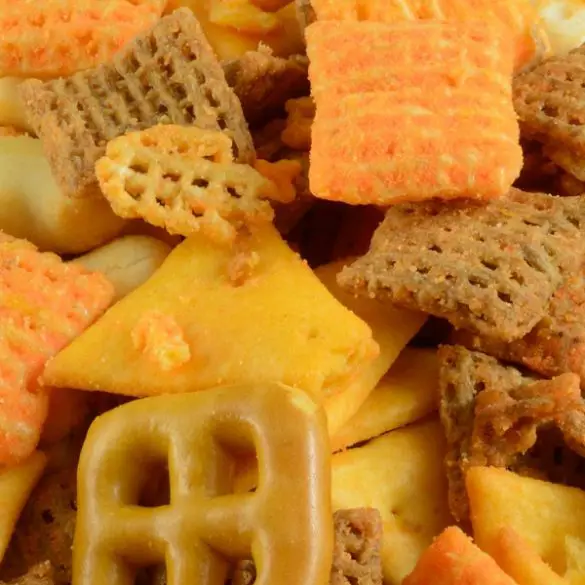 Ingredients
1 cup corn Chex

1 cup wheat Chex

1 cup rice Chex

1/3 cup mixed nuts

1/3 cup mini pretzels

1/3 cup garlic bagel chips

3 tablespoons (45 ml) melted unsated butter

3/4 teaspoon seasoning salt

2 teaspoons (10 ml) Worcestershire sauce

1/2 teaspoon garlic powder

1/8 teaspoon onion powder
Instructions
In a medium mixing bowl, combine Chex, mini pretzels, and garlic bagel chips.
Mix well, then sprinkle the mixture with seasoning salt, garlic and onion powders. Stir well.
Melt the butter in the microwave. Stir in Worcestershire sauce.
Pour butter mixture over Chex mixture. Mix well to coat.
Grease the air fryer basket with olive oil.
Place Chex mixture in the greased basket. Fry at 350 º F (175º C) for 9 minutes, stirring once halfway through.