Air fryer shakshuka recipe. Shakshuka is a traditional Israeli dish made with eggs, tomatoes, and peppers. It's so easy to make that it can be whipped up in the morning. This recipe will show you how to cook it on your air fryer!
The Benefits of Air Frying
Air frying is a healthy cooking method that uses less oil and air as the cooking medium. It is a quick and easy way to cook food without the use of ovens, stoves, or microwaves.
Air frying can be used for many different purposes such as:
– Air frying vegetables like potatoes, sweet potatoes, zucchini, carrots, and more
– Air frying meat like chicken breast and steaks
– Air frying pastries like croissants and doughnuts
How to Make Shakshuka in an Air Fryer?
Shakshuka is a popular Israeli dish consisting of eggs poached in a spicy tomato sauce. It is traditionally cooked on a stove, but an air fryer can be used to cook it with less mess and time.
Air fryers are becoming more popular as more people are discovering that they are great for cooking food without using any oil or other fat. Air fryers use hot air to cook food, so you won't have any of the greasy mess that traditional stoves can produce.
Best Tips to Ensure Success with Your Shakshuka Recipe on the Air Fryer
The first tip is to use canned tomatoes, which are already chopped and ready for cooking. This way, you don't have to chop any vegetables for your recipe.
The second tip is to cook the eggs separately from the sauce so that they don't scramble during cooking. The third tip is to use a bowl instead of a pan when frying the onions and garlic in olive oil because it will prevent burning or sticking.
Air Fryer Shakshuka Recipe
You may also like:
Air Fryer Egg Florentine Recipe
Instant Pot Eggs Benedict Recipe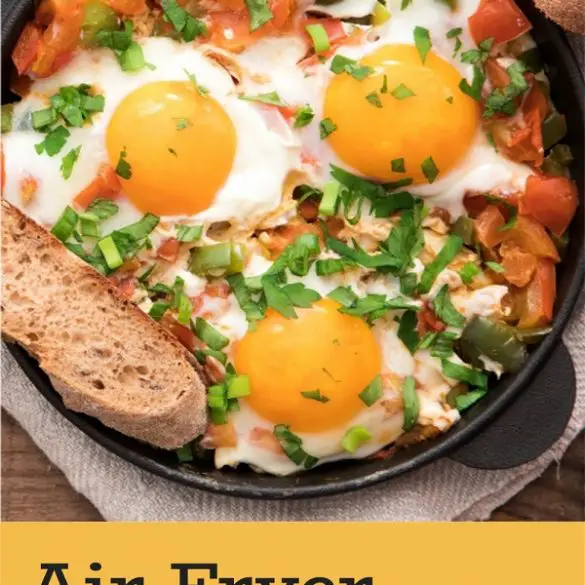 Ingredients
3 large eggs

1/2 cup green capsicums, diced

1/3 cup chopped white onion

1/2 cup chopped tomatoes

2 tablespoons chopped fresh cilantro

1/2 cup tomato puree

1/2 cup (125 ml) water

2 tablespoons olive oil

1 teaspoon paprika

1/2 teaspoon cumin seeds

1/2 teaspoon ground nutmeg

1/2 teaspoon salt

1/2 teaspoon freshly ground black pepper
Instructions
In an oven-safe bowl, which fits with your air fryer, combine capsicums, tomatoes, onions, tomato puree, water, olive oil, paprika, cumin, ground nutmeg, salt, and black pepper. Stir well.
Bake at 345º F (175º C) for 15 minutes, stirring halfway through.
Make 3 small wells in the sauce. Crack the eggs into wells. Continue fryer for a further 5 minutes.
Sprinkle with chopped cilantro. Serve hot.