Air fryer egg Florentine recipe. This egg Florentine is a healthier and easier way to enjoy your favorite breakfast dish. Fresh spinach is added to eggs, milk, and butter for a nutrient-rich meal you can whip up in just minutes.
The Benefits of Eating Air Fryer Egg Florentine For Breakfast
Egg Florentine is a delicious breakfast sandwich that is easy to make. It combines the flavors of bacon, spinach, and a fried egg. However, it can also be made in an air fryer if you have one!
Air fryers are becoming more popular because they are healthier than traditional frying and they don't take up as much space in your kitchen. They also come with preset cooking functions that make it easy to cook different types of food without having to worry about using too much oil or not cooking the food enough.
How to Cook the Perfect Egg Florentine With Your Air Fryer
This recipe is a breakfast dish that is perfect for those who like to have eggs for the first meal.
This dish has some of the best ingredients for a good breakfast. The spinach and ham are both nutritious and will give you energy for the day.
The eggs are both creamy and fluffy, which makes them perfect to go with the ham and spinach.
The cheese adds flavor to this dish, but also helps make it more satisfying because it contains protein.
Air Fryer Egg Florentine Recipe
You may also like:
Air Fryer Eggs In Basket Recipe
The Best Air Fryer Avocado Eggs Recipe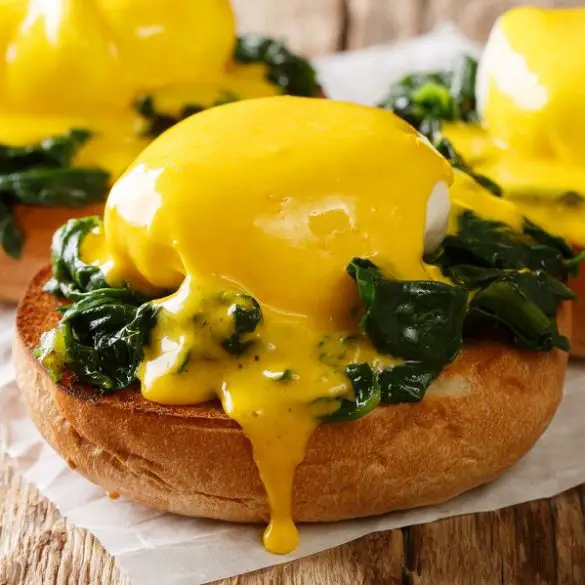 Ingredients
3 English muffin halves

3 eggs

6 tablespoons water

1 cup steamed spinach

3 egg yolks

4 oz (120 g) salted butter

2-3 tablespoons freshly squeezed lemon juice

1 teaspoon parsley flakes

a pinch of cayenne pepper
Instructions
Place 3 muffin tins in the air fryer basket. Pour 2 tablespoons of water into each tin. Carefully crack the eggs into each muffin half. Fry at 380º F (190º C) for 6-7 minutes. Meanwhile, in a small saucepan, bring the butter to a boil. Using an electric mixer, beat the egg yolks at high speed. Gradually add the melted butter; slowly at first and then gradually increase the speed. Stir in the lemon juice and cayenne pepper. Put steamed spinach on top of English muffin halves, followed by poached eggs. Pour Hollandaisesauce over the egg. Sprinkle parsley flakes over the sauce. Serve hot.