Air fryer eggs in basket recipe. This breakfast recipe is really a classic. It may have many different names but it will always be known to us as Eggs in a basket.
Why Air Fryers are Perfect for Cooking Eggs
Air fryers are perfect for cooking eggs because they have a basket that is specifically designed for eggs. The air fryer has an egg basket that is designed to hold the eggs in place.
The basket is made of mesh material so the heat can circulate evenly around the egg and cook it through. The air fryer also uses less oil than a regular frying pan or pot, making it healthier. Some air fryers also have a rotating basket so you can cook more than one egg at a time.
5 Tips for Making Perfectly Cooked Air Fryer Eggs in a Basket Every Time
Air fryers are a great way to cook eggs. They are healthier and easier than cooking them in a frying pan. The best part is that they can be cooked in the air fryer basket, which makes them easy to clean up.
1. The first step is to preheat the air fryer for 8 minutes at 400 degrees Fahrenheit. This will ensure that the outside of the egg cooks before the inside does, which will make them easier to handle and less likely to break when removed from the basket.
2. Add a tablespoon of butter or oil for flavor, then add one egg per section in the basket and cook for 1-2 minutes at 400 degrees Fahrenheit until fully cooked through but not browned on top.
3. Use an oven mitt or potholder to remove the egg from the basket, and transfer it to a plate or platter.
4. Apply sauce of choice or salt and pepper to taste.
5. Enjoy your air-fried eggs with toast, biscuits, or in a sandwich.
Breakfast Recipes with Air-Fried Eggs
This is the best guide to follow if you want to make the perfect breakfast with air-fried eggs. You will find all the recipes that are worth trying and some tips on how to make them.
*Eggs Benedict with Sausage Recipe
Air Fryer Eggs in Basket Recipe
You may also like:
Instant Pot Eggs Benedict Recipe
The Best Air Fryer Avocado Eggs Recipe
Instant Pot Chicken and Dumplings Recipe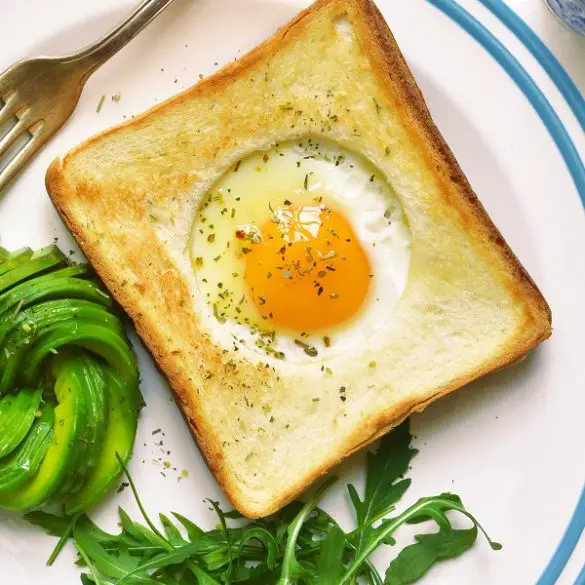 Ingredients
1 slice of bread

1 large egg

salt and freshly ground black pepper, to taste
Instructions
Preheat your air fryer to 330º F (165º C) for 5 minutes.
Spray the air fryer basket with nonstick cooking spray, then cover it with a piece of parchment paper.
Take a piece of bread and place it on the cookie cutter platter. With a large cookie cutter, cut a hole in the center of the bread. Transfer the prepared bread slice to the air fryer basket.
Crack the egg directly in the center of the bread.
Fry at 330º F (165º C) for 5 minutes. Using a wooden spatula, carefully flip the egg and cook for a further 3-4 minutes.
Sprinkle with salt and pepper. serve hot.