Asian glazed chicken wings recipe. Spicy chicken wings with homemade plum sauce baked in an oven. Yummy appetizer! Do you have a party and looking for more elegant appetizers? Try to prepare Zesty Marinated Shrimp Cocktail, surprise your guests!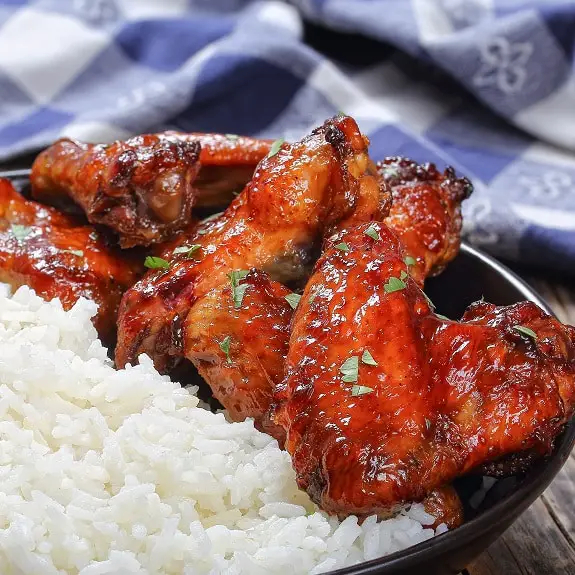 Ingredients
2 tablespoons (30 ml) vegetable oil

12 whole chicken wings, washed and pat dry

salt and freshly ground black pepper

3/4 cup (180 ml) plum sauce

1/2 cup (125 ml) orange juice

2-inch (5 cm) ginger root, peeled

3 tablespoons (45 ml) tamari sauce

1/2 teaspoon red chili flakes

1/4 cup chopped fresh cilantro

1/4 cup chopped fresh basil
Instructions
Preheat the oven to 400º F (200º C).
In an oven-safe skillet, heat the oil over medium-high heat. Season chicken wings with salt and black pepper. Add to the hot oil and brown for 3 minutes per side.
Meanwhile, prepare the Plum Sauce: In a small pot, combine plum sauce, orange juice, ginger, tamari sauce, and red chili flakes. Stir well and bring to a simmer over low heat.  Discard the ginger.
Pour the plum sauce over browned chicken wings. Place the skillet with wings in the preheated oven. bake for 20 minutes, turning chicken wings once.
Turn off the oven and remove the skillet. Transfer baked wings to a serving plate. Serve over cooked rice.