Bacon-wrapped chestnuts appetizer recipe. Water chestnuts wrapped in bacon and cooked in an oven. An excellent appetizer for any party. You may also like to prepare Prosciutto-Wrapped Melon, another easy and tasty appetizer.
Do you have a party and looking form elegant appetizers, refreshing drinks, or quick and easy snacks? We have a huge collection of them, please check it out-Party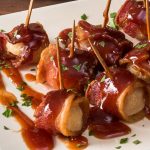 Ingredients
1 pound (480 g) sliced bacon, halved

2 cans (8 oz (240 ml) each) whole water chestnuts, drained

1/2 cup (125 ml) brown sugar

1/2 cup (125 ml) mayonnaise

1/4 cup (60 ml) chili sauce
Instructions
In a medium nonstick skillet, cook bacon over medium heat until crisp. Remove cooked bacon from the skillet.
Wrap each bacon piece around a water chestnut, then secure with a toothpick. Arrange in an ungreased baking sheet.
In a small mixing bowl, combine the brown sugar, mayonnaise, and chili sauce. Stir well. Pour over wrapped water chestnuts.
Bake in the preheated (35oº F) oven for 30 minutes. Serve hot.