Instant pot fruit risotto recipe. Risotto with coconut milk and dry red wine cooked in an electric instant pot and served with fresh berries and pears. Delicious.
I love using fresh berries, such as strawberries, blueberries, blackberries, or combination. But sometimes berries we want is not a season and frozen is the better choice. Make the risotto exactly as described below, using the same amount of frozen berries, no need to thaw.
You may also like Instant Pot Poached Nectarines in White Wine or Instant Pot Vegetarian Braised Carrots
Instant Pot Fruit Risotto Recipe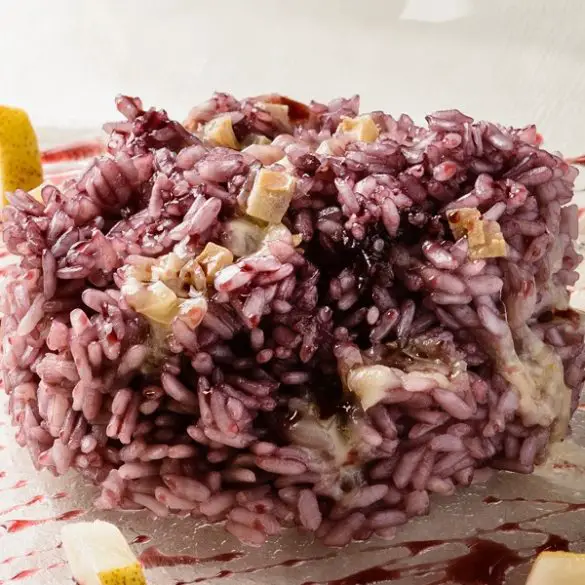 Ingredients
2 tablespoons (30 ml) unsalted butter

1 cup short-grain Arborio rice

14 oz (420 ml) can unsweetened coconut milk

1 cup (250 ml) whole milk

1/3 cup (80 ml) dry red wine

1/4 cup granulated sugar

grated zest of 1 lemon

2 teaspoons (10 ml) vanilla extract

2 cups fresh berries (I used blackberries)

1 ripe Pear, cored and sliced
Instructions
Melt the butter in an electric instant pot turned to the sauté mode.
Add rice and cook, stirring constantly, for 1 minute.
Add coconut milk, whole milk, dry red wine, sugar, lemon zest, and vanilla. Stir well.
Cover the pot and lock the lid. Set the machine to cook at high pressure. Set the timer to cook for 9 minutes.
Using the Natural Release method, bring pressure to normal. Carefully unlock and open the lid.
Let the risotto cool slightly before adding pears and berries.
Replace the cover and allow stand a few minutes to thicken.