Instant pot vegetarian braised carrots recipe. Learn how to cook delicious braised carrots with Marsala wine and Dijon mustard in an electric instant pot. Use it as a side or main dish.
You may also like Instant Pot Vegetarian Baba Ganoush or Instant Pot Easy Vegan Chili
Instant Pot Vegetarian Braised Carrots Recipe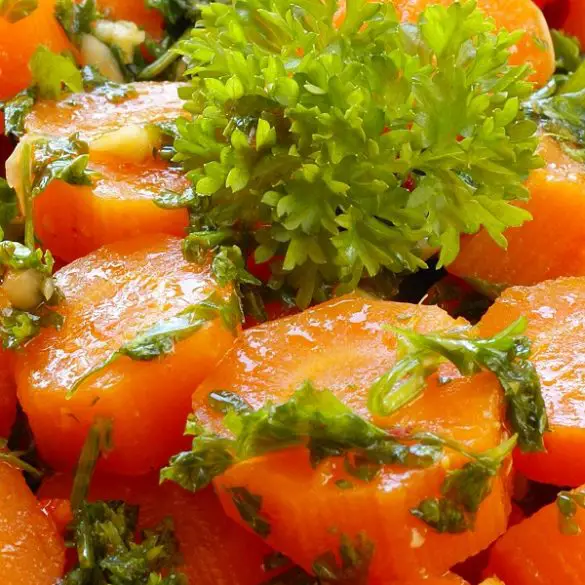 Ingredients
3 tablespoons (45 ml) ghee butter

1 clove garlic, peeled and chopped

1/3 cup (80 ml) dry Marsala

1/2 cup (125 ml) vegetable broth

2 teaspoons (10 ml) Dijon mustard

pinch of brown sugar

freshly grated nutmeg

1½ pounds (720 g) carrots, peeled and chunked

dash of sea salt and freshly ground black pepper

2 tablespoons (30 ml) olive oil

chopped fresh basil
Instructions
Melt the ghee butter in an electric instant pot turned to the sauté mode. Stir in chopped garlic and cook, stirring occasionally, for 30 seconds.
Add the wine, vegetable broth, mustard, sugar, and ground nutmeg. Stir well to combine.
Add the carrots and stir to coat with mixture. Season with salt and bring to a boil. Boil for 1 minute.
Close the pot and lock the lid. Set the machine to cook at high pressure. Set the timer to cook for 5 minutes.
Using the Quick Release method, bring pressure to normal. Carefully unlock and open the lid.
Switch the cooker to the sauté mode. Simmer uncovered, until the liquid reduces by half.
Drizzle with olive oil and season with black pepper, to taste.
Sprinkle with fresh chopped basil. Serve hot.