Instant pot vegetarian baba ganoush recipe. Learn how to cook easy and healthy eggplant dip in an electric instant pot.
You may also like Instant Pot Glazed Brussels Sprouts or Instant Pot Vegetarian Red beans and Rice
Instant Pot Vegetarian Baba Ganoush Recipe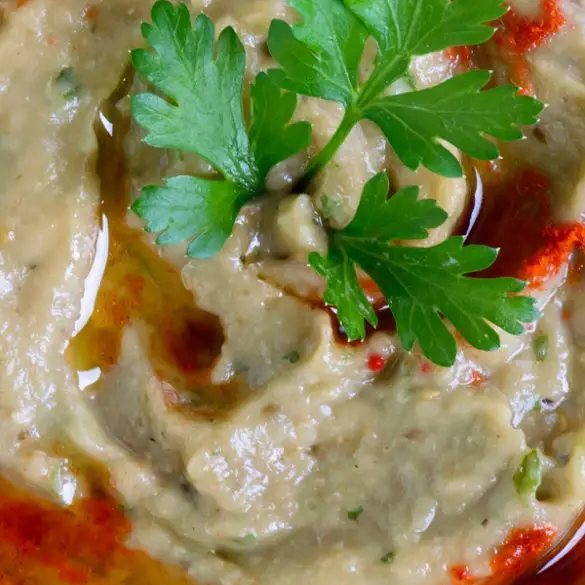 Ingredients
3 tablespoons (45 ml) olive oil

1 large eggplant, peeled and cubed

1 clove garlic, peeled and halved

1/2 cup (125 ml) water

2 tablespoons chopped fresh parsley

1/2 teaspoon sea salt

1/2 teaspoon smoked paprika

3 tablespoons (45 ml) freshly squeezed lemon juice

2 tablespoons (30 ml) tahini paste

1/2 teaspoon crushed Aleppo pepper flakes
Instructions
Heat 2 tablespoon olive oil in an electric instant pot turned to the sauté mode.
Add the eggplant and halved garlic. Cook, stirring occasionally, until soft and golden, for about 5 minutes.
Pour in the water. Stir well.
Close the pot and lock the lid. Set the machine to cook at high pressure. Set the timer to cook for 6 minutes.
Using the Quick Release method, bring pressure to normal. Carefully unlock and open the lid.
Using a colander, drain the eggplant. Stir in parsley, paprika, salt, lemon juice, and tahini paste.
Working with immersion blender, process into coarse purée. Mix in remaining 1 tablespoon olive oil.
Taste for more salt, tahini, and lemon juice. Sprinkle with Aleppo pepper.