Instant pot pumpkin-carrot puree baby food. This homemade baby food recipe is easy! You can be sure to leave your baby with all the nutrients they need to grow and thrive.
Instant Pot Pumpkin-Carrot Puree Recipe for Your Little One's First Comfortable Meals
This is a recipe for a delicious, healthy, and nutritious pumpkin-carrot puree that your baby can enjoy.
It is important to introduce your little one to healthy food from the start of their life and this recipe will help them do just that. This vegetable puree will give them the nutrition they need without any hassle.
Pumpkin and carrot baby food is a fall treat that you can easily make at home. It's light and healthy and the flavors are perfect, so your baby will be excited to enjoy it.
A hand blender and an instant pot are extremely helpful when making baby food. They allow you to create healthy, organic meals in an easy, practical way that reduces your time in the kitchen.
You've Been Wasting an Hour Making Homemade Baby Food!
With the Instant Pot, it is now easier than ever to make homemade baby food.
In the past, making homemade baby food was a time-consuming process. It would take hours for a parent to make pureed vegetables and fruits. Now with the Instant Pot, it takes less than an hour to make purees that are ready to eat!
The Instant Pot has made it easy for parents to give their babies healthy meals with no preservatives or additives. The machine can cook vegetables and fruits in minutes without any need for added water or cooking time. As a result, parents can now give their babies the nutrition they need without sacrificing taste.
5 Tips to Make Your Purees Taste Better with the Instant Pot
The Instant Pot is a popular pressure cooker and it is one of the best baby food makers. It can be used to make baby food, soup, yogurt, and even hard-boiled eggs.
The 5 tips to make your purees taste better are:
1. Use a wide-rimmed pot with a lid that seals well;
2. Add salt to the water before cooking;
3. Use high-quality ingredients such as organic fruits and vegetables;
4. Add an extra tablespoon of olive oil for every cup of broth or water;
5. Cook on high pressure for 10 minutes, then release pressure naturally.
Instant Pot Pumpkin-Carrot Puree Baby Food
You may also like:
Air Fryer Egg Florentine Recipe
Air Fryer Eggs In Basket Recipe
The Best Air Fryer Avocado Eggs Recipe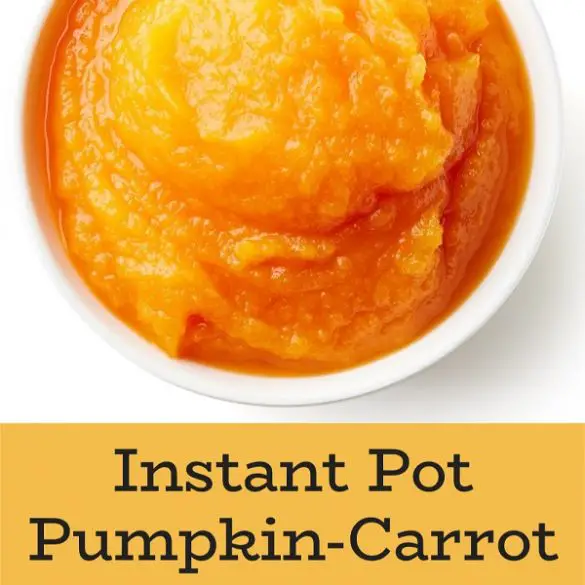 Ingredients
2 large carrots, peeled and cubed

1 butternut pumpkin, peeled, deseeded, and cubed

2 sweet potatoes, peeled and cubed

2 teaspoons olive oil

1 cup (250 ml) water
Instructions
In an electric instant pot, combine all ingredients, except olive oil.
Close the pot and lock the lid. Set the machine to cook to high pressure. set the timer to cook for 15 minutes.
Using the Natural Release method, bring pressure to normal. carefully unlock and open the lid.
Add oil to cooked veggies, then blend with an immersion blender until smooth.
Divide the puree into small portions and place it into small containers.
Cover and refrigerate until ready to use.