Air fryer breakfast potatoes recipe. Giving your potatoes that restaurant-level taste doesn't require much effort. These are the easiest breakfast potatoes in the air fryer you'll ever make and they're deliciously crispy on the outside and smooth on the inside! If you love potatoes and have an air fryer, then you will love our breakfast potatoes.
Why Air Fryer Breakfast Potatoes Are a Game Changer for Your Health?
The Air Fryer Breakfast Potatoes are a game-changer for your health because they are low in calories, fat, and carbs.
Air Fryers are becoming more popular in the kitchen. They have many uses such as cooking fries, chicken wings, and vegetables. However, they can also be used to make breakfast potatoes that have been shown to be healthier than traditional fried potatoes.
The Air Fryer Breakfast Potatoes have fewer calories and less fat than fried potatoes do because they are cooked with an air fryer instead of oil or butter. They also contain fewer carbs because they don't need any added flour or breadcrumbs to make them crispy as traditional fried potatoes do.
In my air fryer breakfast potatoes recipe that I am showing you today, I have peeled our potatoes. This is a traditional method that involves cutting off the skin and rubbing them clean before frying them.
But a good tip is that if you are using the tiny potatoes, then keep the skin on as it will feel like there is no potato left after peeling them.
How to Make Breakfast Potatoes in Air Fryer
I always chop my onions and bacon, then layer them in a mixing bowl with the sliced white potatoes. I can easily fry up these ingredients and make a traditional breakfast meal.
Air frying isn't always the best option. A mixing bowl is great for quick stir fry and prevents you from having too many ingredients stuck to the side of your air fryer. This way you can also make sure that everything gets well oiled in the mixes well together before cooking.
After adding the bowl contents into the air fryer, I'll use my hands to spread them out evenly so there is no overcrowding. If you want to make some delicious breakfast potatoes, then cook them for 15 minutes or until they are tender.
Serving fried potatoes for entertaining guests is a big part of hosting. The options are endless so let your guests make the choice depending on what they like to eat. Or why not treat yourself and go for the LOT!
Cooking Tips for Perfectly Cooked Breakfast Potatoes
An air fryer is a cooking tool that can be used to cook potatoes in just a few minutes. Air fryers are great for making small batches of food. They are also perfect for making crispy fries and even popcorn.
The best way to cook breakfast potatoes in an air fryer is by first preheating the machine and then putting the potatoes on a wire rack on top of a baking sheet. This allows all of the excess moisture from the potatoes to evaporate so they will come out crispy on the outside and tender on the inside.
Step 1: Preheat the air fryer.
Step 2: Put a wire rack on top of a baking sheet to allow the moisture from the potatoes to evaporate and for them to come out crispy on the outside. You can also put parchment paper between each potato so they do not stick together. Then, put all of the potatoes in a single layer on top of the wire rack or parchment paper.
Step 3: Pour vegetable oil into the air fryer to a depth of 1/4 inch.
Step 4: Place the potatoes in the air fryer and cook them until tender and crispy on the outside, about 8-10 minutes.
Air Fryer Breakfast Potatoes Recipe
You may also like:
Instant Pot Buffalo Chicken Dip Recipe
Air Fryer Egg Florentine Recipe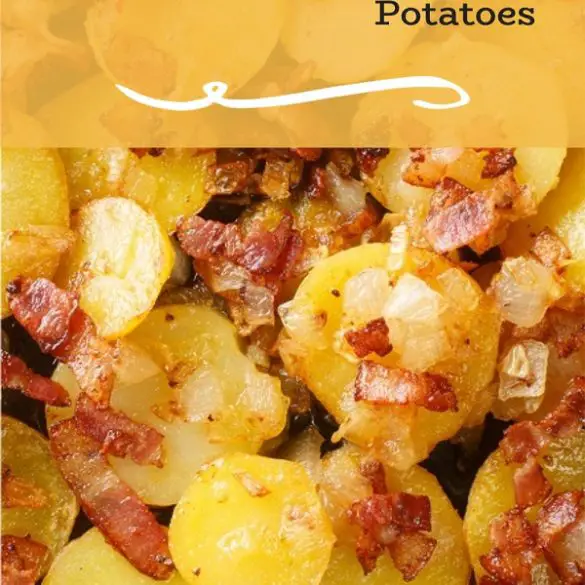 Ingredients
3 large white potatoes, peeled and sliced

1 medium yellow onion, peeled and chopped

6 slices of bacon, diced

1 teaspoon olive oil

salt and freshly ground black pepper, to taste
Instructions
In a large mixing bowl, combine sliced potatoes, onions, and bacon. Mix well.
Add the olive oil and stir again.
Place the potato mixture in the air fryer basket.
Fry at 360º F (180º C) for 15 minutes, shaking the basket halfway through.
Serve hot.