Slow cooker curry-spiced mixed nuts recipe. Mixed nuts with spices cooked in a slow cooker. The blend of sweet and savory flavors is very tasty.
Do you have a party or looking for more easy snack recipes? Try to prepare Sugar-Roasted Almonds, another easy and tasty snack cooked in a slow cooker.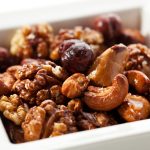 Ingredients
6 cups mixed nuts

4 tablespoons (60 ml) margarine, melted

2 tablespoons (30 g) granulated sugar

1½ teaspoons (8 ml) curry powder

1 teaspoon (5 ml) garlic powder

1 teaspoon (5 ml) ground cinnamon
Instructions
Preheat your slow cooker on high for 15 minutes.
Add nuts, then drizzle melted margarine over them and toss well.
Sprinkle with combined dry ingredients and toss well again.
Cover the pot and cook on low-heat setting for 2 hours, stirring every 20 minutes.
Increase the heat to high. Cook, uncovered, for a further 30 minutes, stirring after 15 minutes.
Reduce the heat to low to keep warm for serving.