The best appletini cocktail recipe. A very delicious and refreshing drink, an excellent choice for any party!
Equipment you need to prepare this tasty drink: cocktail shaker, Martini glass, cubed ice.
Do you have a party and looking for more refreshing and tasty drinks? Try to prepare Healthy Pina Colada Smoothie, surprise your guests!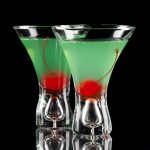 Ingredients
1 1/2 oz (45 ml) vodka

1 oz (30 ml) green apple schnapps

1/4 oz (7 ml) freshly squeezed lemon juice

maraschino cherry for garnish
Instructions
In a shaker filled with cubed ice combine all ingredients, except maraschino cherry.
Shake well.
Place the maraschino cherry on the bottom of chilled martini glass. Strain the vodka mixture into the prepared glass.
Serve immediately. Enjoy!