Air fryer stuffed poblano peppers recipe. Quick and easy to make, these stuffed poblano peppers are a great dinner option.
What is the best way to prepare your poblano peppers?
Poblano peppers are a mild, sweet variety of chili pepper that can be found in the Americas. They can be used in many different dishes and are typically roasted, grilled, or fried.
There are several ways to prepare poblano peppers, but the most common way is to roast them over an open flame until they are blackened on the outside and soft on the inside. This method produces a sweet flavor that is perfect for sauces and salsas.
What are the Benefits of Using an Air Fryer?
Air fryers are a convenient and healthy way to cook food. They offer health benefits such as less fat, no oil or grease, and no added preservatives.
Air fryers cook food evenly, which means that you can cook food faster and with less risk of burning it. Air fryers also have less risk of splattering oil or grease onto the stovetop or oven.
An air fryer is also a healthier option for cooking because there is no oil or grease used in cooking with an air fryer. This means that it reduces the amount of fat intake from your diet as well as reducing the risk of developing heart disease, cancer, diabetes, and obesity.
What are the benefits of using an air fryer to cook poblano peppers?
Poblano peppers are a type of chili pepper that is native to Mexico. They have a mild, slightly smoky flavor and can be used in many different dishes.
There are many benefits of using an air fryer to cook poblano peppers. Air fryers use lower temperatures than conventional ovens and they can save you time and money.
Air fryers allow you to cook food with less oil, which makes it healthier for you and the environment.
How do you season stuffed peppers when cooking them in an air fryer?
When cooking stuffed peppers in an air fryer, you will need to season them before cooking them. There are two ways to season stuffed peppers:
1) Seasoning the peppers before stuffing them
2) Seasoning the stuffing before cooking it
What Makes These Stuffed Poblano Peppers Perfect?
Yummy. Robust flavors thanks to the charred peppers and various spices.
Versatile. You can serve this meal as a main course or a side dish.
Easy. Char the peppers in an air fryer, stuff them with a delicious filling, and cook in an oven.
Healthy. this recipe uses only healthy ingredients, such as cooked quinoa, black beans, and corn.
Air Fryer Stuffed Poblano Peppers Recipe
You may also like: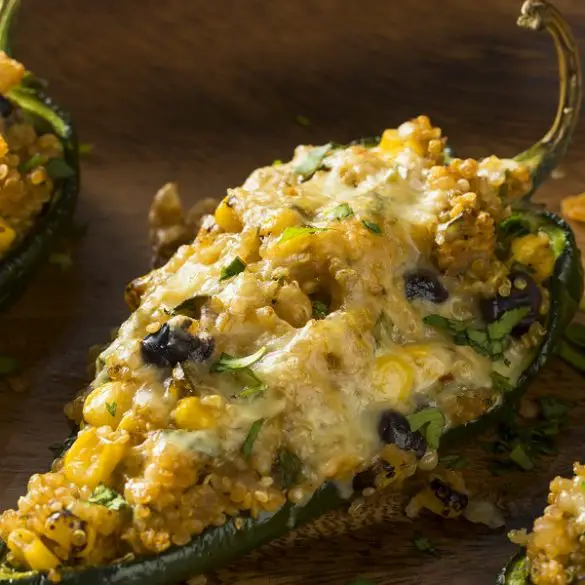 Ingredients
3 poblano peppers, rinsed and dried

1 cup frozen corn kernels, thawed

1 cup canned black beans

1 cup cooked quinoa

2 tablespoons chopped fresh cilantro

1/4 teaspoon kosher salt

1/4 teaspoon freshly ground black pepper

1 cup grated Monterey Jack cheese
Instructions
Place poblano peppers in a single layer in the air fryer basket.
Fry at 400º F (200º C) for 10 minutes, or until skins are charred, flipping halfway through.
Remove fried peppers from the fryer and place them in a resealable plastic bag to steam for about 5 minutes.
Peel the skin and discard.
In a medium mixing bowl, combine corn, beans, quinoa, cilantro, black pepper, salt, and grated cheese. Mix well.
Cut a slit down the center of each poblano pepper, beginning at the stem and continuing to the tip.
Take out the seeds but be careful not to tear the chile.
Stuff each pepper with quinoa mixture. Place stuffed poblano peppers in a 6-inch (15 cm) heat-proof pan, then place the pan in the air fryer basket.
Fry at 400º F (200º C) for 10 minutes or until the cheese has melted.