Instant pot egg loaf recipe. A one-pan egg loaf recipe that's perfect for a weeknight dinner. With this instant pot egg loaf, dinner is ready in 15 minutes!
What is an Egg Loaf and Why Should You Try It?
Egg Loaf is a delicious, healthy, and easy-to-prepare dish that is made with eggs, milk, flour, salt, pepper, and butter. It can be cooked in the slow cooker or the instant pot.
Egg loaf recipes are usually made with eggs, milk, flour, and some spices. The main difference between an egg loaf recipe and an instant pot egg loaf is that the latter cooks faster than the former. If you're looking for a healthier alternative to traditional egg loaves then you should try this recipe.
Start Making an Egg Loaf Today!
A lot of people are getting into the Instant Pot craze and it's easy to see why. With this handy appliance, you can make a variety of dishes in just minutes – from soups to casseroles, stews to desserts!
This is a great recipe for beginners because it's quick and easy. It also tastes delicious! Just mix the ingredients together in the pot and put it on high for 10 minutes. Then, take off the lid and let cool for 5 more minutes before serving.
The recipe is a great dish to make when you're craving comfort food during these cold winter months.
What are the Different Variations of the Egg Loaf?
There are several variations of the instant pot egg loaf. It can be made with eggs, milk, cream, or water. It can also be made in a bread machine or on the stovetop.
The most popular variation is the one that uses eggs and milk to create a cake-like texture. The other popular variations are using cream and water to create a soufflé-like texture and using bread flour instead of all-purpose flour to make it more like a traditional bread loaf.
Egg loaves are easier to make than traditional bread loaves because they don't require kneading, rising, or proving time – just mix up the ingredients and put them in your instant pot.
Instant Pot Egg Loaf Recipe
You may also like:
Air Fryer Ham and Cheese Pinwheels
Instant Pot Beef Barley Soup Recipe
Air Fryer Chicken Fritters Recipe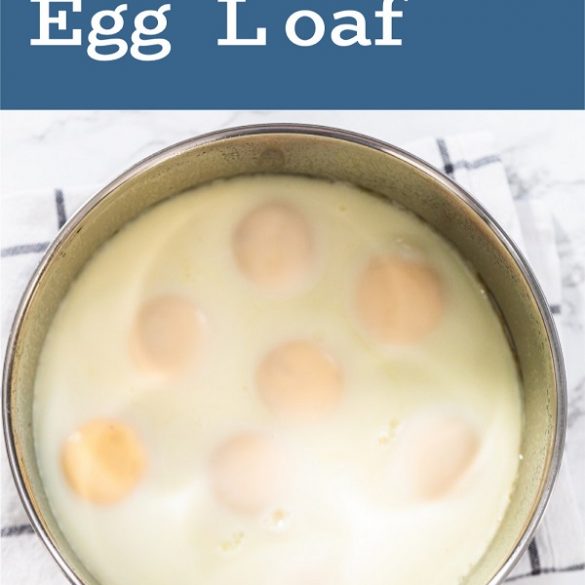 Ingredients
10 large eggs

salt and freshly ground black pepper
Instructions
Pour 1 cup (250 ml) of water into a 6-quart (6 L) electric instant pot.
Place a trivet.
Crack eggs into a silicone pan, and place it on top of a metal trivet.
Close the pot and lock the lid. Set the machine to cook to high pressure. Set the timer to cook for 12 minutes.
Using the Quick Release method, bring pressure to normal. Carefully unlock and open the lid.
Remove the silicone pan from the cooker and allow it to cool.
Slice up eggs into smaller chunks and use them as part of any of your favorite egg sandwich or dinner recipes.