Air fryer ham and cheese pinwheels. Delicious and crispy ham, melted cheese, and mustard make these pinwheels the perfect treat for any occasion.
What is an Air Fryer and What are the Benefits?
Air fryers are a new cooking appliance that uses hot air to cook food. The benefits of using an air fryer are that it cooks food with less oil and it takes less time to cook.
Air fryers can be used for many different types of dishes. They can be used to make fried chicken, french fries, and even pizza.
Air Fryer Ham and Cheese Pinwheels are the Perfect Party Food
Air fryers are becoming increasingly popular for their fast and easy cooking capabilities. They are perfect for preparing snacks and appetizers that can be enjoyed by the whole family.
A cheese pinwheel recipe is a perfect party food because it is easy to prepare, provides a variety of flavors, and allows the host to customize the recipe to their liking. The air fryer makes it possible to cook this dish quickly while leaving all the work up to you.
An air fryer ham and cheese pinwheel recipe is a quick snack that you can make in minutes with minimal effort. It's also versatile enough to be paired with other ingredients like olives, tomatoes, or even jalapenos if you wish.
The Secret to Making Perfectly Crispy Air Fryer Ham and Cheese Pinwheels
This is the perfect recipe for a crispy and puffy pinwheel. It's made with ham and cheese, which is what makes it crispy. The dough is baked in the oven, not fried in the air fryer.
There are three key steps to making this perfect recipe:
1) Make sure your ham is sliced very thin so it cooks quickly and doesn't get tough.
2) Cut your dough into four equal parts so you can make four pinwheels at once.
3) Bake your dough for 10 minutes at 400 degrees Fahrenheit before adding any toppings.
Air Fryer Ham and Cheese Pinwheels
You may also like:
Instant Pot Beef Barley Soup Recipe
Air Fryer Chicken Fritters Recipe
Slow Cooker Buffalo Chicken Meatballs Recipe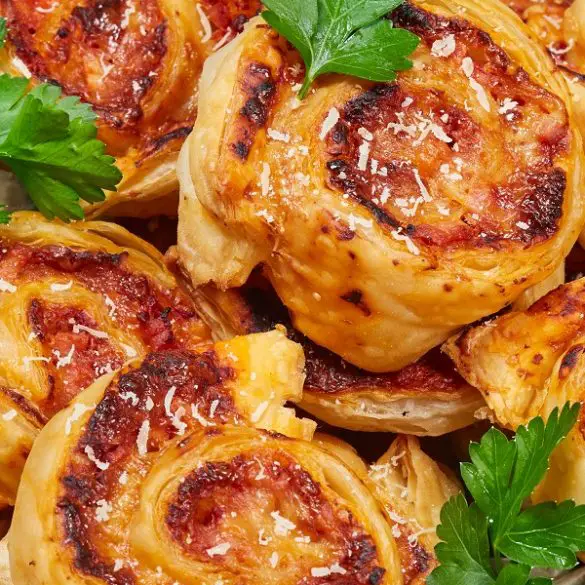 Ingredients
puff pastry

1/2 pound (240 g) deli ham, sliced

1/2 pound (240 g) Monterey jack cheese

spicy mustard
Instructions
Preheat your air fryer to 400º F (200º C).
On a cutting board, lay the pastry puff flat.
Spread a thin layer of spicy mustard, then spread a layer of ham. Spread a layer of cheese on top of the ham.
Roll up the pastry and slice into 1-inch (2.5 cm) slices.
Lightly coat the air fryer basket with nonstick cooking spray.
Place pinwheels in a single in the greased air fryer basket.
Fry for 15 minutes, flipping one time after 10 minutes.