Best fried shrimp scampi recipe. Fried shrimp with spices, butter, and dry red wine. Easy and delicious! You may also like Fried Honey-Glazed Shrimp Recipe Do you like seafood recipes? if so, we have a huge collection of them, please check it out-Seafood
Best Fried Shrimp Scampi Recipe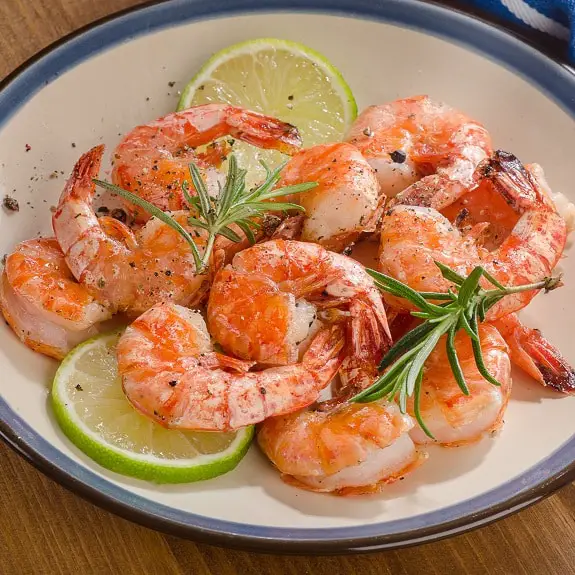 Ingredients
1 pound (480 g) raw shrimp, deveined, tails intact

1/2 teaspoon (3 ml) salt

1/4 teaspoon (1 ml) freshly ground black pepper

1/4 teaspoon (1 ml) ground paprika

1 tablespoon (15 ml) olive oil

6 tablespoons (90 ml) unsalted butter

3 tablespoons (45 ml) dry white wine

4 garlic cloves, peeled and minced

3 tablespoons (45 ml) chopped fresh parsley

freshly squeezed juice of half lime

sliced lime, for garnish
Instructions
In a small mixing bowl, combine salt,black pepper, and paprika. Mix well, then sprinkle the dry mixture over shrimp and toss well to combine.
In a large nonstick skillet, heat the olive oil over medium-high heat. Add seasoned shrimp and cook, stirring occasionally, until just cooked through, for 1-2 minutes per side.
Remove fried shrimp from the skillet and transfer to a serving plate. Keep warm.
In the same skillet,  add minced garlic and butter. Saute over medium heat, stirring often, until garlic is fragrant. Pour in the dry white wine and cook, stirring occasionally, for a further 3-4 minutes or until the wine is evaporated.
Return the shrimp to the pan. Sprinkle with chopped and cooked for another 1-2 minutes. Sprinkle with lime juice and stir well.
Garnish with lime wedges. Serve hot.