Christmas peppermint bark mimosa cocktail recipe. This is the festive Christmas drink with champagne and candy cane. You may also like The Best Christmas Drink
Do you have a party and looking for more elegant appetizers, refreshing and festive drinks, or quick and easy snacks? We have a huge collection of them, please check it out-Party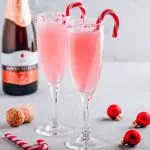 Ingredients
1 bottle (700 ml) chilled champagne

peppermint schnapps

white creme de cacao

candy cans
Instructions
In a zip lock bag, using a rolling pin, crash 1 whole candy cane until a semi-fine powder.
Pour white creme de cacao into a small dish. Dip rims of champagne glasses in white creme de cacao, then in the crushed cane.
Fill champagne glasses 1/3 full with peppermint schnapps, then the rest with chilled champagne.
Garnish with whole candy cane. Enjoy!