Creamy hot white chocolate recipe. A very easy and tasty non-alcoholic mixed drink, an excellent choice for cold winter evening. You may also like The Best Christmas Drink
Do you have a party and looking for more elegant appetizers, refreshing drinks, or quick and easy snacks? We have a huge collection of them, please check it out-Party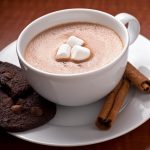 Ingredients
6 cups (1.5 L) half-and-half cream, divided

1½ cups (375 ml) white baking chips

2 cinnamon sticks

1/4 teaspoon (1 ml) ground cinnamon

dash of ground nutmeg

1 tablespoon (15 ml) vanilla extract

marshmallows for garnish
Instructions
In a large saucepan, combine 1/2 cup (125 ml)  half-and-half, white baking chips,  cinnamon, and ground nutmeg.
Stir well. Cook, stirring, over low heat until chips are melted.
Stir in the remaining half-and-half and heat through.
Remove from the heat. Discard cinnamon sticks. Stir in vanilla extract. Drop a couple of marshmallows on each cup.
Serve hot.