Instant pot hearty beef and vegetable soup recipe. Learn how to cook hearty and healthy soup in an electric instant pot.
This delicious recipe adapted from https://sweetpeasandsaffron.com/instant-pot-vegetable-beef-soup/
Instant Pot Hearty Beef and Vegetable Soup Recipe
You may also like Instant Pot Fruit Risotto or Instant Pot Vegetarian Tzimmes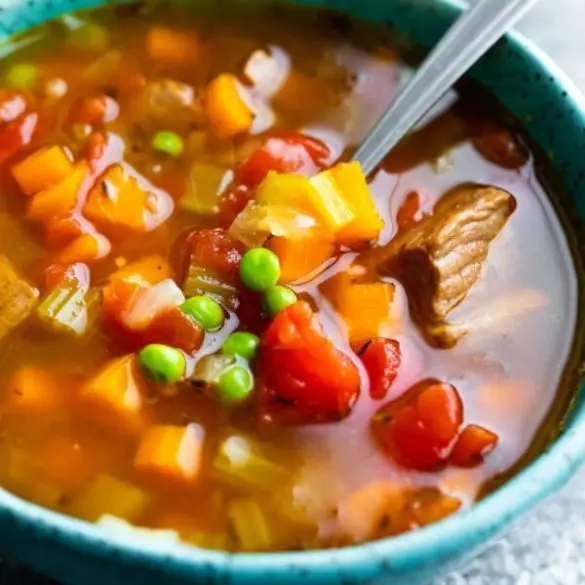 Ingredients
1 tablespoon (15 ml) olive oil

1 medium yellow onion, peeled and chopped

1 pound (480 g) stewing beef, cubed

2 teaspoons (10 ml) minced garlic

1 tablespoon (15 ml) Worcestershire sauce

6 cups (1 L) chicken stock

4 small carrots, peeled and chopped

15 oz (450 ml) can diced tomatoes, undrained

2 bay leaves

1 teaspoon dried thyme

1 cup frozen peas, thawed
Instructions
Heat the olive in an electric instant pot turned to the saut mode.
Add chopped onions and simmer, stirring occasionally, until soft and translucent, for about 5-7 minutes.
Add cubed beef and continue cooking and stirring occasionally, until browned on all sides.
Stir in minced garlic and cook for a further 1 minute.
Mix in Worcestershire sauce and cook, stirring, for an additional 1 minute.
Add remaining ingredients, except frozen peas. Mix well.
Close the pot and lock the lid. Set the machine to cook at high pressure. Set the timer to cook for 15 minutes.
Using the Natural Release method, bring pressure to normal. Carefully unlock and open the lid.
Stir in frozen peas and allow stay for 3-5 minutes.
Serve hot.