Instant pot paleo chicken cacciatore recipe. This is a very easy and healthy Italian recipe. Chicken thighs with chicken broth and vegetables cooked in an electric instant pot. You may also like Keto Cheesecake, another healthy recipe cooked in a pressure cooker.
How to Serve Instant Pot Paleo Chicken Cacciatore
You can serve this meal with cooked rice, polenta, gluten-free pasta, gnocchi, and spaghetti squash.
Instant Pot Paleo Chicken Cacciatore Recipe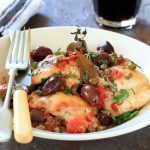 Ingredients
4 bone-in and skin-on chicken thighs

1/2 teaspoon kosher salt

1/4 teaspoon freshly ground black pepper

2 tablespoons (30 ml) avocado oil

3 cloves garlic, peeled and minced

1/2 yellow onion, peeled and chopped

1/2 cup (125 ml) low-sodium fat-free chicken broth

1/3 cup (80 ml) capers, drained

14 oz (420 ml) can diced tomatoes

1 tablespoons (15 ml) tomato paste

1 bay leaf

2 tablespoons chopped fresh parsley

1/2 teaspoon chopped fresh thyme

1/2 teaspoon dried oregano

1/4 teaspoon red pepper flakes

1/2 cup (125 ml) pitted kalamata olives
Instructions
Place chicken thighs in a large mixing bowl. Season with salt and black pepper.
Heat avocado oil in 6-quart (6 L) electric instant pot turned to sauté mode. Add seasoned chicken to the hot oil and cook until browned on each side. Remove browned thighs from the pot and set aside.
Add onions and garlic to the cooker, Cook, stirring occasionally, for 3 minutes.
Pour in chicken broth. Using a wooden spoon, deglaze the pot, scraping up browned bits from the bottom of the cooker.
Add remaining ingredients, except the olives and capers. Mix well.
Place chicken thighs in the sauce. Close the instant pot and lock the lid. Set the machine to cook at high pressure. Set the timer to cook for 10 minutes.
Using the natural Release method, bring pressure to normal. Carefully unlock and open the lid. Stir in olives and capers. Transfer to serving plates. Serve hot.