Instant pot spicy rice recipe. A quick and easy dinner idea that is ready in less than 20 minutes. This recipe is filled with rich flavors, colors, and textures from India.
The best way to cook rice and other foods in the instant pot
The instant pot is a multi-cooker that was designed to replace your rice cooker, crockpot, yogurt maker, and more. The instant pot has a special setting for cooking rice and other foods.
There are many different ways to cook rice in the instant pot but the best way is to use the "rice" setting on the pressure cooker.
Why is Spicy Rice Great?
Spicy Rice is a delicious, easy, and healthy meal that can be prepared in just a few minutes. It's perfect for those busy nights when you don't have much time to cook.
What are the health benefits of making spicy rice in an instant pot?
There are many health benefits of making spicy rice in an instant pot. It is a great way to cook your rice and make it more flavorful.
The first benefit of making spicy rice in an instant pot is that you can cook it for less time than cooking it on the stovetop. This means that you will save time and energy.
The second benefit is that you can get the rice to be perfectly cooked every single time because the instant pot has a sensor that will tell you when the water level is low or when the rice is done cooking.
The third benefit of making spicy rice in an instant pot is that you won't need to worry about overcooking your vegetables because they will be steamed in the same container as your rice, so they will be perfectly cooked too!
Finally, there is the whole thing about not having dirty pots and pans.
Instant Pot Spicy Rice Recipe
You may also like:
Air Fryer Ham and Cheese Pinwheels
Instant Pot Beef Barley Soup Recipe
Air Fryer Chicken Fritters Recipe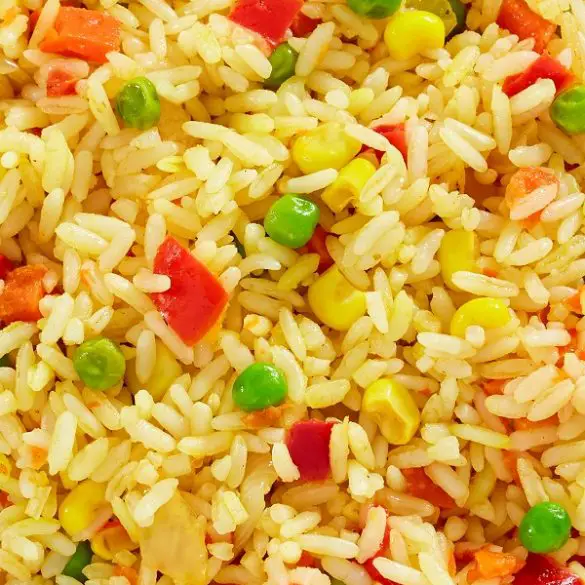 Ingredients
1 small yellow onion, peeled and sliced

1 large bell pepper, cored and cubed

1 tablespoon extra virgin olive oil

2 teaspoons chopped garlic

4 tablespoons Nandos marinade

1 cup frozen peas, thawed

1 cup frozen corn, thawed

2 cups yellow rice

pinch of saffron

2 tablespoons smoked paprika

1 tablespoon ground turmeric

1/2 teaspoon cayenne pepper
Instructions
Heat the olive oil in an instant pot turned to saute mode. Add onion and bell pepper and saute, stirring occasionally, until the onion has softened.
Stir in garlic and saute a little longer.
Add Nando's marinade with water until it reaches 2.5 cups (600ml). Pour the mixture into the instant pot and deglaze.
Stir in yellow rice and all seasoning. Mix well.
Close the lid and lock the pot. Set the machine to cook to high pressure. Set the timer to cook for 18 minutes.
Using the natural Release method, bring pressure to normal. Carefully unlock and open the lid.
Stir in frozen peas and corn. Fluff up the rice as you stir.