Oven-baked spinach lasagna recipe. Meatless Italian lasagna baked in an oven. Very easy and tasty. Do you like Italian cuisine? If so, you may also like Italian Seafood Pasta Pescatore
I used lasagna noodles to make this Italian lasagna. Also, I recommended using only fresh vegetables. Looking for more delicious recipes? We have a huge collection of them, please check it out-Recipes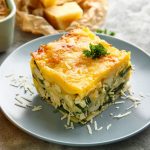 Ingredients
20 lasagna noodles

2 tablespoons olive oil

1 cup chopped yellow onion

1 tablespoon minced garlic

2 cups fresh spinach leaves

3 cups ricotta cheese

2/3 cup (160 ml) grated Romano cheese

1 teaspoon salt

1 teaspoon dried oregano

1 teaspoon dried basil

1/2 teaspoon freshly ground black pepper

1 large egg, beaten

3 cups (750 ml) shredded Mozzarella cheese

1 cup (250 ml) grated Parmesan cheese
Instructions
Preheat your oven to 350º F (175º C).
Meanwhile, bring a large pot of lightly salted water to a boil over medium-high heat. Add lasagna noodles and cook, uncovered, for about 8-10 minutes. Drain and set aside.
In a large nonstick skillet, heat the olive oil over medium-high heat. Add onions and garlic. Cook, stirring occasionally until onions are tender. Drain the liquid and cool.
In a medium pan, boil water over medium-high heat. Add spinach leaves and boil for 5 minutes. Using a colander, drain, then chop.
In a large mixing bowl, combine ricotta cheese, Romano cheese, chopped spinach, oregano, basil, black pepper, and beaten egg. Mix well. Add cooled onion and garlic mixture. Beat with an electric mixer on low speed for 1 minute.
Lay 5 cooked lasagna noodles in the bottom of 9x13-inch (22.5x32.5 cm) baking sheet. Spread 1/3 of cheese and spinach mixture over noodles. Sprinkle with 1cup of Mozzarella and 1/3 cup Parmesan over the top. Repeat layering  2 times.
Cover the dish with aluminum foil. bake in preheated oven for 1 hour. Allow cooling for 15 minutes before serving.