Air fryer crispy baked green beans. These green beans are delicious and crispy. With the help of a hand-held air fryer, they're cooked in just 10 minutes at 380 degrees Fahrenheit.
What are the Main Advantages of Cooking with an Air Fryer?
The air fryer does not require the use of oil, is easy to clean, and has no hot spots.
The main advantages of cooking with an air fryer are that it is a healthier option, cooking with less oil and it's easy to clean.
It also has a wide variety of uses such as baking, roasting, grilling, and more.
What is the Difference Between Traditional Oven and Air Fryers?
The oven is a device that cooks food by using heat. Air fryers are devices that use hot air to cook food instead of heat. The main difference between the two is that air fryers don't use any oil or grease to cook.
An air fryer is a kitchen appliance that uses hot air, rather than heat, to cook food. It has been around for over a decade and has become increasingly popular in recent years because of its health benefits and the fact it takes less time to cook food than traditional ovens.
How to Make Air Fryer Crispy Green Beans
There are a few different ways to make crispy green beans in an air fryer. The best way is to place the green beans on a baking sheet and cook them at 380 degrees Fahrenheit for 10 minutes.
There are also some methods that can be used while cooking the green beans in the air fryer. You can place them on a wire rack, or place them in a greased baking sheet with aluminum foil.
Air frying is becoming more popular because it's easy and it's a healthier option than deep-frying your food.
Air Fryer Crispy Baked Green Beans
You may also like:
Instant Pot Minestrone Soup Recipe
Air Fryer Fried Yellow Rice Recipe
Slow Cooker Texas Hot Chili Recipe
Easy Air Fryer Cauliflower Bites Recipe
Instant Pot Split Pea Soup with Turkey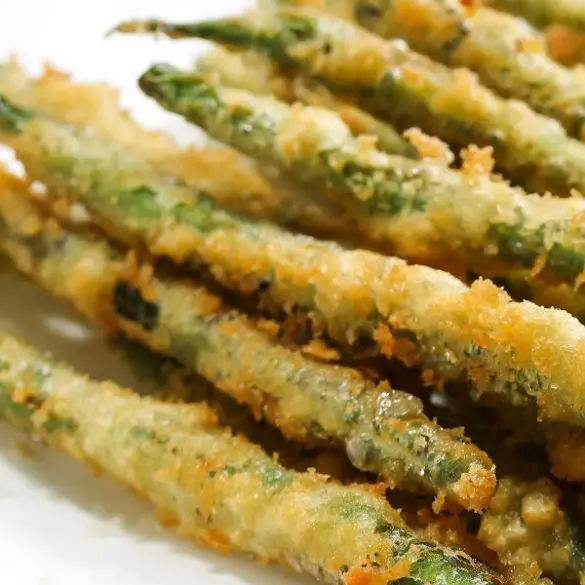 Ingredients
1/4 cup all-purpose flour

2 large eggs, beaten

1/2 cup grated Parmesan cheese

1 cup Panko Breadcrumbs

1 pound (480 g) of green beans, washed

salt and freshly ground black pepper, to taste
Instructions
Place all-purpose flour in a medium bowl. Place beaten eggs in the second bowl.
In a third bowl, combine the breadcrumbs and grated cheese. Mix well.
One by one, dip beans in the flour, followed by the eggs, and then dip in the breadcrumb mixture.
Place seasoned beans in a single layer in the air fryer basket.
Fry at 380º F (190º C) for 10 minutes, stirring halfway through.
Serve hot.