Air fryer green beans recipe. Green beans with soy and Sriracha sauces fried in an air fryer. Easy and healthy.
Air Fryer Green Beans Recipe
You may also like:
Air Fryer Vegetarian Carrot Chips
Air Fryer Crispy Green Tomatoes
Instant Pot Baked Baby Potatoes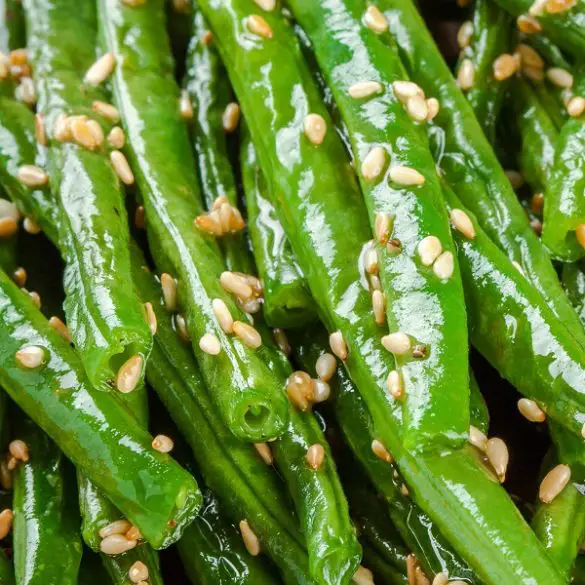 Ingredients
1 tablespoon (15 ml) low-sodium soy sauce

1/2 tablespoon (8 ml) Sriracha sauce

4 teaspoons (20 ml) toasted sesame oil, divided

12 oz (360 g) green beans, trimmed

1/2 tablespoon toasted sesame seeds
Instructions
In a small mixing bowl, combine the soy sauce, Sriracha sauce, and 1 teaspoon of sesame oil.
Whisk until smooth. Set aside.
In a large mixing bowl, combine green beans and remaining sesame oil. Toss well.
Preheat your air fryer to 400º F (200° C) for 5 minutes.
Working in batches, place green beans in the air fryer basket in a single layer. Fry at 375º F (190º C) for 8 minutes, or until the green beans are lightly charred and tender, shaking the basket halfway through the cooking time.
Repeat with the renaming green beans.
Transfer fried beans to a serving plate. Pour the sauce over. Toss well. Sprinkle with toasted sesame seeds.
Serve hot.