Air fryer spinach and mushroom frittata recipe. Learn how to cook yummy breakfast frittata in an air fryer. Delicious!
Air Fryer Spinach and Mushroom Frittata Recipe
You may also like:
Air Fryer Roasted Spicy Cabbage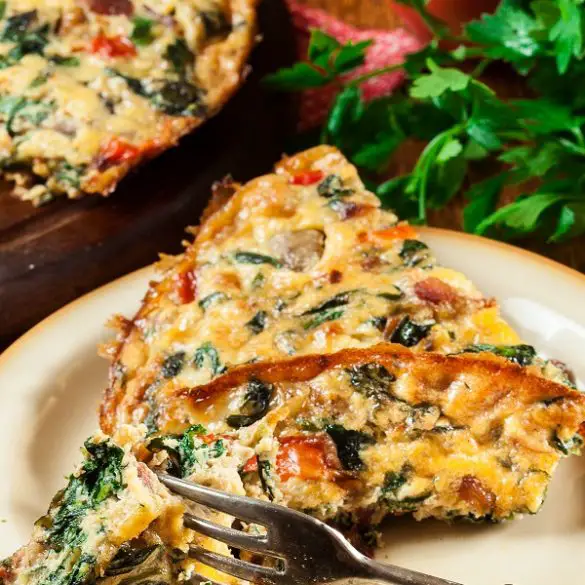 Ingredients
4 large eggs, whisked until frothy

4 oz (120 g) mushrooms, chopped

1 cup fresh baby spinach, rinsed and chopped

1/2 cup shredded Cheddar cheese

1/3 cup finely chopped leeks, white parts only

1/4 cup chopped grape tomatoes

1 tablespoon (15 ml) 2% milk

1/4 teaspoon dried oregano

1/4 teaspoon garlic powder

1/2 teaspoon kosher salt

dash of freshly ground black pepper
Instructions
Preheat your air fryer to 400º F (200º C) for 5 minutes.
Meanwhile, in a large mixing bowl, all ingredients. Mix until well blended.
Spray a baking dish with nonstick cooking spray, then pour the egg mixture into the prepared dish.
Put the baking dish in the air fryer basket. Air fry at 300º F (150º C) for 20-23 minutes or until the top is golden brown.
Cool for 5 minutes before serving.