Instant pot masala egg roast recipe. Delicious and healthy Indian spicy eggs cooked in an instant pot.
Instant Pot Masala Egg Roast Recipe
You may like as well:
Slow Cooker Buffalo Chicken Dip
Instant Pot Mexican Queso Dip Recipe
Air Fryer Eggplant Slices Recipe
Slow Cooker Potato and Eggplant Curry
Air Fryer Spicy Peanuts Recipe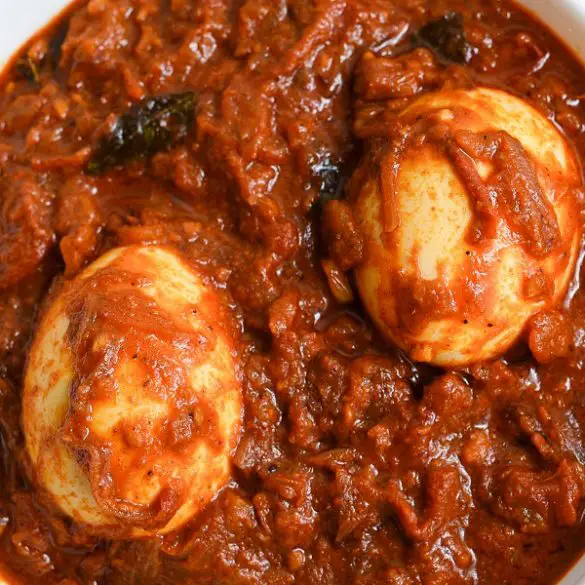 Ingredients
2 tablespoons (30 ml) oil

1/2 teaspoon black mustard seeds

2 medium yellow onions, peeled and thinly sliced

10-15 curry leaves

1 teaspoon (5 ml) minced garlic

1 teaspoon (5 ml) minced ginger

6 eggs

1/4 cup (60 ml) water

2 tomatoes, diced

For Spices:

1 tablespoon (15 ml) paprika

1 teaspoon (5 ml) coriander powder

1 teaspoon (5 ml) salt

1/2 teaspoon meat masala

1/4 teaspoon ground turmeric

1/4 teaspoon cayenne pepper

1/4 teaspoon freshly ground black pepper

2 bay leaves
Instructions
Heat the oil in an instant pot, turned to the saut mode.
Add the mustard seeds and cook, stirring, until they begin to pop.
Add onions and stir-fry for 8-10 minutes, or until onion is browned.
Stir in the curry leaves, garlic, ginger, and spices.
Mix in tomatoes and continue cooking for a further 5 minutes.
Pour in the 1/4 cup (60 ml) water, then arrange a steamer basket into the pot.
Place the eggs on top of the steamer basket. Close the pot and lock the lid. Set the machine to cook at high pressure. Set the timer to cook for 10 minutes.
Using the Quick Release method, bring pressure to normal.
Carefully unlock and open the lid.
Remove boiled eggs from the cooker and transfer to a bowl of ice-cold water.
Allow to stay for 5 minutes. Peel the eggs.
Remove the steamer from the pot. Place peeled eggs back in the instant pot.
Press the saut button. Stir-fry for about 5 minutes, or until the eggs are well coated in a thick sauce and most of the water evaporated.