Instant pot pasta puttanesca recipe. Italian spaghetti cooked in an electric instant pot and served with yummy homemade puttanesca sauce.
Instant Pot Pasta Puttanesca Recipe
You may also like:
Pressure Cooker Tomato Puttanesca Sauce
Italian Seafood Pasta Pescatore
30 Minutes Chicken Penne Pasta with Pesto
Easy Pasta Salad with Ham and Peas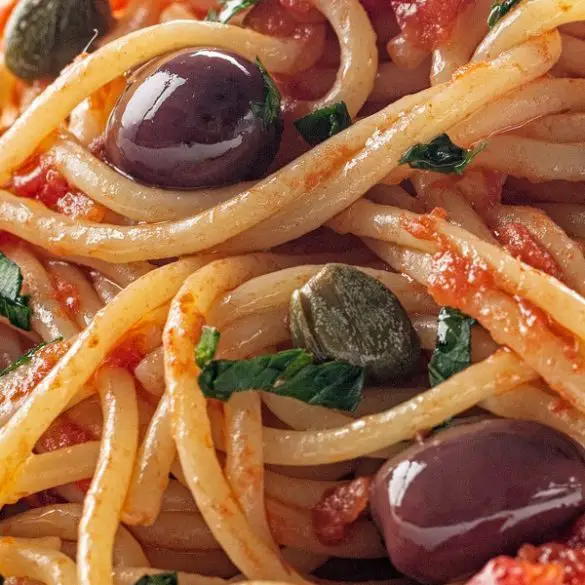 Ingredients
9 oz (270 g) uncooked spaghetti

3½ cups (875 ml) water

1 tablespoon (15 ml) olive oil

1 teaspoon (5 ml) salt

To Make Puttanesca Sauce:

1½ cups chopped tomatoes

2 tablespoons (30 ml) olive oil

2 garlic cloves, peeled and minced

2 tablespoons capers, drained

2 oz (60 g) black olives, pitted

salt and freshly ground black pepper, to taste

chopped fresh parsley, to garnish
Instructions
In an electric instant pot, combine spaghetti, 1 tablespoon olive oil, and salt. Pour water over and stir well.
Close the pot and lock the lid. Set the machine to cook at high pressure. Set the timer to cook for 2 minutes.
Using the natural Release method, bring pressure to normal. Carefully unlock and open the lid.
Using a colander, strain any excess of water. Return cooked pasta to the cooker.
Add the remaining ingredients, except parsley, and stir well.
Remove pasta Puttanesca form the instant pot and transfer to a serving plate. Sprinkle with chopped parsley.
Serve hot.