Slow cooker broccoli cheddar soup recipe. Easy and delicious creamy broccoli and cheese soup cooked in a slow cooker. Cook it in an instant pot-Instant Pot Broccoli Cheddar Soup
Slow Cooker Broccoli Cheddar Soup Recipe
You may also like:
Instant Pot Lentil Soup Recipe
Instant Pot Moroccan Harira Soup Recipe
Slow Cooker Vegan Mung Bean Soup Recipe
Pressure Cooker Cauliflower Cheese Soup Recipe
Instant Pot Healthy Lentil Chickpea Soup Recipe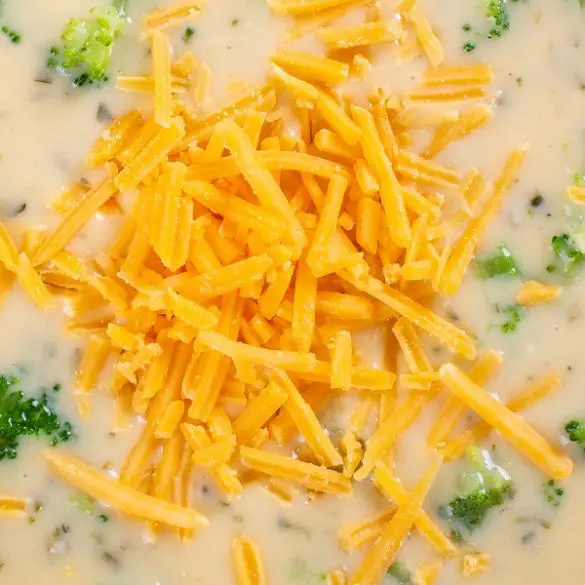 Ingredients
1 package cheddar broccoli soup seasoning

3 cups frozen broccoli florets, thawed

1/2 cup chopped yellow onion

3 cups (750 ml) water

1½ cups (375 ml) milk

1/4 cup cornstarch

2 cups shredded Cheddar cheese
Instructions
In a slow cooker, combine broccoli and chopped onion.
In a medium mixing bowl, combine broccoli soup seasoning and water. Stir well, then pour over broccoli and onion mixture. Mix well.
Cover the cooker and cook in a low-heat setting for 5 hours.
In a large mixing bowl, combine milk and cornstarch. Stir well.
Open the pot and whisk the milk mixture into the soup. Recover the cooker and cook at a high-heat setting for a further 30 minutes.
Turn the slow cooker off and open the lid. Stir in shredded Cheddar cheese.
Ladle the soup into soup bowls. Sprinkle with additional shredded cheese. Serve hot.