Air fryer mushrooms stuffed with cheese and ham recipe. Learn how to cook cheese and ham stuffed mushrooms in an air fryer. Please note, the cooking time is just an estimate and can vary based on the Air Fryer model.
Air Fryer Mushrooms Stuffed with Cheese and Ham Recipe
You may like as well:
Air Fryer Vegetarian Carrot Chips
Air Fryer Crispy Green Tomatoes
Air Fryer Panko Crusted Parmesan Broccoli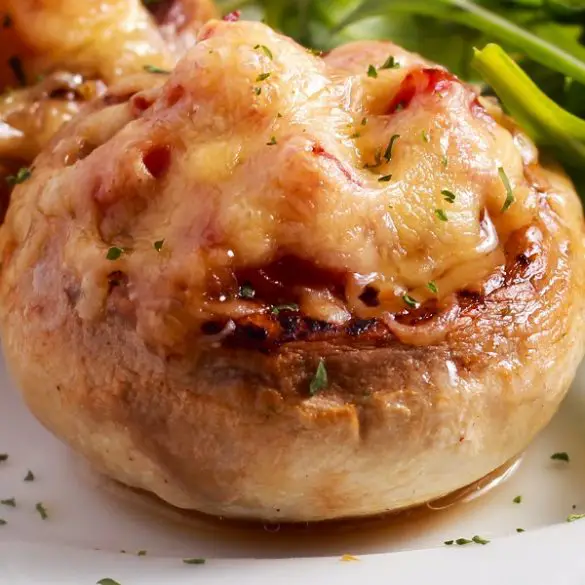 Ingredients
4 oz (120 g) sliced Mozzarella cheese

1/2 cup diced ham

2 green onion, chopped

2 tablespoons breadcrumbs

1/2 teaspoon garlic powder

1/4 teaspoon ground oregano

1/4 teaspoon freshly ground black pepper

1-2 teaspoons olive oil

16 fresh mushrooms, stems removed
Instructions
In a food processor, combine all ingredients, except mushrooms.
Process until finely chopped. Keeping the food processor run, slowly drizzle in 1-2 teaspoons olive oil, until a thick paste has formed.
Remove the paste from the food processor and transfer to a bowl.
Divide the mixture into the mushroom caps and lightly press down.
Preheat your air fryer to 400 F (200 C) for 5 minutes.
Working in batches, place stuffed mushrooms in the air fryer basket in a single layer.
Fry at 390 F (195 C) for 12 minutes, or until the mushrooms lightly browned.
Serve warm.