Slow cooker chili con Carne recipe. An excellent Mexican chili with ground beef, beer, and vegetables cooked in a slow cooker. A flavorful chili that will satisfy the heartiest of appetizers!
Are you looking for more easy and tasty low-carb recipes? try to prepare Creamy Broccoli Potato Soup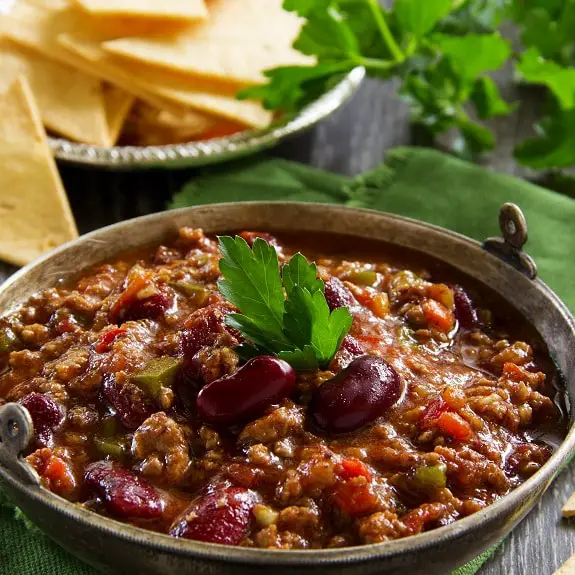 Ingredients
1 pound (480 g) lean ground beef

1 cup chopped yellow onion

1 cup chopped green bell pepper

2 cloves garlic, peeled and minced

1 tablespoon (15 ml) chili powder

2 teaspoons (10 ml) ground cumin

2 teaspoons (10 ml) dried oregano leaves

2 cans (14½ oz (435 ml) each) diced tomatoes, undrained

15 oz (450 ml_ can red kidney beans, rinsed and drained

6 oz (180 ml) can tomato paste

3/4 cup (180 ml) beer

1 tablespoon (15 ml) light brown sugar

1 tablespoon (15 ml) unsweetened cocoa

salt and freshly ground black pepper, to taste
Instructions
In a greased large nonstick skillet, cook ground beef over medium heat until meat is browned, for about 10 minutes, crumbling with a fork.
Remove cooked beef from the skillet and transfer to a slow cooker. Add remaining ingredients, except seasoning.
Cover the pot and cook on low-heat setting for 6-8 hours.
Turn off the slow cooker and open the lid. Season the chili with salt and black pepper. Stir well.
Transfer to serving bowls. Serve hot.